June 2012
25th June 2012 – We're at 11,111.1 miles.
We are back out cycling, it's so good to be back on the bicycle again after almost a year out of the saddle, (I had an accident a year ago  – or maybe it wasn't an accident… Did Michael deliberately throw his water bottle under my back wheel? Hmm). We've been trying to decide how best to fit the bicycles on the back of the ActiveE so we can head out to our favourite place to cycle. Do we buy a cycle rack that's made for the BMW 1 series or try an off the shelf one? Well, we already have one that we used on the MINI E so Michael set about seeing if it would fit the ActiveE… it does and very nicely too. The only problem we have with the bicycles on the back is when you go into reverse the reversing sensors are on continuously.
A little note on cyclists and cars – For all of those out there who think that cyclists can't hear the ActiveE or other Electric Cars… well we can't hear most of the new petrol cars either. Imagine standing on the top of a cliff with the wind blowing, that's what we hear while we're cycling, particularly when we're going at 18 + miles an hour. Please don't beep your horn at us, it isn't going to help. We follow the rules of the road (just as we do when we're driving) and cycle as close to the edge as we can, while avoiding pot holes and small furry creatures, oh and sometimes baby snapping turtles too.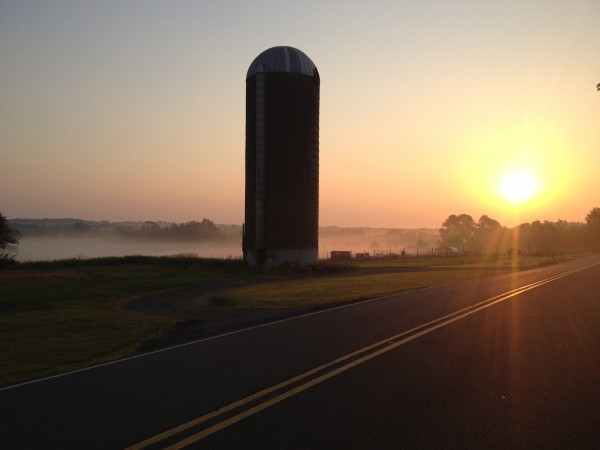 Cycling to Servicing – Tuesday 5th June and the ActiveE went off for its second service. As I drove to the dealer I never expected that I'd be without the car for 4 days! I definitely did not expect to be driving a Datsun Sentra instead. Oh my gosh – that car is so awful, it's wheels were barely connected to the steering wheel and it bounced around all over the place, very sick making.
Day 1 – I arrived at the dealer for what I thought was a regular service and it'd only be about an hour like last time, because no one had rung me from the dealer to say otherwise, because of course they would let me know if they needed it for longer ahead of time… that's the courteous thing to do right? Apparently not. I was told by the service guy in charge of the ActiveE that they needed it overnight so they could have it on the charger to make sure all was okay. So hang on a minute, they knew they were going to keep it overnight and that I hadn't arranged a courtesy car but they didn't ring me… I don't get it, seems a little remiss of them.
Day 2 – While waiting for the phone call to say I could pick it up, Michael rings me instead to say they need it longer as they have to take the motor out and lubricate it. Now why didn't they ring me I wonder?!!! I'm not happy to say the least. It's going to be another two days… Ugh. I'm resigned to driving only the most necessary of journeys, that being to drop of and pick up at school, I can't possibly drive the Datsun anymore than that… I really would be sick.
Day 3 – Nothing.
Day 4 – Finally Michael (not me, again) gets the phone call to say the ActiveE is ready and we can pick it up. By the time we arrive at the dealer, a 40 minute drive, Michael is ready to be sick also… see I wasn't lying!
Anyway it's great to have the ActiveE back again, just wish I'd known in advance about this problem, then at least I could have been better prepared.
A note to BMW –
Dear BMW, How nice it would be to hear from you a little more often so you can keep us up to date on the latest happenings with the ActiveE, whether that be good or bad, we don't like surprises, (well not the ones that mean we are without our cars for 4 days or more).  We are testing these cars for you at an expense to us.  We are more than happy (and do so frequently at all the Green Fairs that we take the ActiveE) to promote your electric car and the upcoming i3 so a little courtesy towards us would be really nice.
It would be great if BMW had a fleet of courtesy electric cars, like the Leaf or Mitsubishi i-MiEV, to hand over to ActiveE drivers while the cars are being serviced. That would make for a much more pleasant experience and make being without our cars a little less painful. Bring back the MINI E!
I see that BMW have just opened their first i store in London, might have to pop along next time we're over in the UK and see it, maybe we'll be able to go after we've had our yearly meeting with the Queen. I wonder if it will be the same amazing experience that we have received at the Tesla dealer.
---
As it'll be a while before we hit all of the 2s and as I'm not the only lady driving an EV out there I wonder if you'd like to join in? If you're a lady and you have any stories that you'd like to share about your EV experiences, please drop me a line at electragirl@electragirl.com – we'd love to feature some guest posts here!
Here's my friend Elizabeth's car sunning itself in Princeton. I can't take the heat so I had to park in the shade.