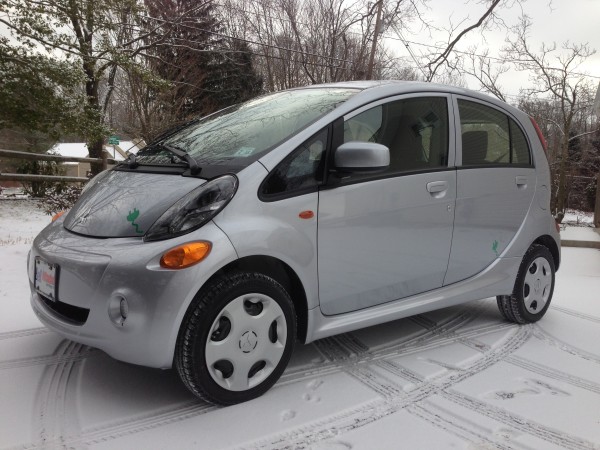 February 2013
"And then there were three" – three what? Surely not three EV"s?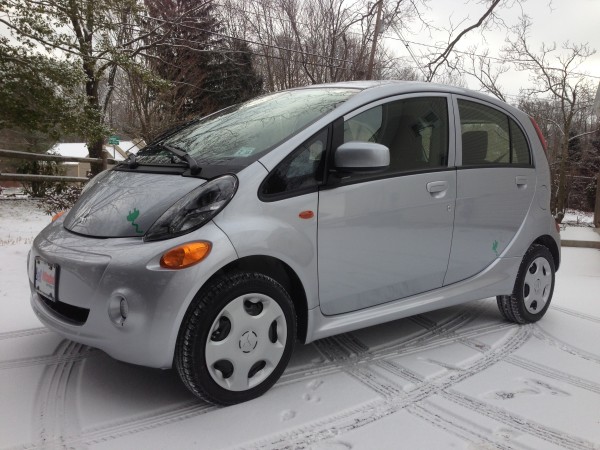 Well, it turns out that Mitsubishi are offering a rather splendid deal on the i-MiEV and the children
need
(need is rather a strong word, more
they would like
) a car to pootle around in so we thought we'd get them an i-MiEV. Aren't we just the best parents ever? Our children will never own a petrol car – what a wonderful thought that is.
Three EV's – where will they all live? What will have to be thrown out of the garage? Which car will be left to sit out on its own? Well, as it turns out, the i-MiEV is on the small side (ed. "Space Efficient") and will actually tuck in quite nicely behind the Tesla Roadster in our garage arrangement.
The i-MiEV will cost us less for its two year lease than we paid for the down payment on the ActiveE. That's pretty good and that has allowed us to put our children in an Electric Car. Everyone's happy.
What our are first impressions of the i-MiEV?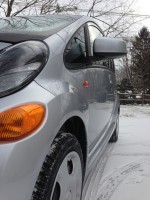 It's small but strong, something about an egg and physics (
Shrugs Shoulders
). Its range is estimated at 62 miles, not brilliant but perfect for the children's needs. It's not white… Yeah!!!!  And it needs some proper wheels and a bit of pimping out as it's quite basic. Our car has the winter pack which means that It has the CHAdeMO charging port so can fast charge at the increasing number of DC fast charging locations that are popping up… Hopefully, one might pop up soon that's in-range so we can try it.
What is it like to drive? Here I pass the pen to my trusty sidekick as I haven't actually driven it yet, (we did only pick it up yesterday).
Thanks EG, I get to write the fun part so here goes…
When you first get into the car… no, when you first climb up into the car, the height takes you by surprise. The pictures don't do justice to the driving position – it's a very euro-inspired design where interior packaging favours an upright stadium seating arrangement over laid back 'gangsta styli'. Anyone who enjoys the commanding driving position of a crossover SUV is going to feel right at home, indeed I found myself looking eye-to-eye at a passing Jeep driver who, oddly, gave me the thumbs up!
I say oddly as the styling of the i-MiEV is a bit binary, a bit polarizing even. Scientifically, it's brilliant, at just 144″ in length, 62″ wide, – that's a couple of inches longer than a Fiat 500 or  two foot shorter than a VW Golf – it easily accommodates four, indeed, its first passenger – a 6'9″ gent – could easily sit bolt upright in the rear! Artistically, the curves at the front received immediate approval from my son who has an artistic side but, conventional, in North America, it 'aint.
Europe has long since adapted to the needs of larger and larger people and 'stuff' by moving up instead of out and to a degree has accepted, even begun to admire the 'new' packaging designs. With the acceptance comes the benefits, especially in the US. The first, is pulling into a parking space between two SUVs and being able to throw open all four doors to get out, the second, riding high with a panoramic view of the world around us and the last – taking that easy parking spot in NYC that everyone else has blasted past.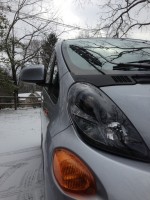 Back to the driving seat and, if you focus straight ahead you can imagine yourself behind the wheel of pretty much any mini-van/crossover SUV until you hit the accelerator where the front lifts and you glide forward as though on air. In the rear, undulating sounds of inverters and motor controllers create a real sci-fi feel – I love it already!
Out on the road it's performance is ok, it's no rocket ship but beats out most small cars with a satisfying chunky wedge of torque, it certainly never feels inadequate for day-to-day pootling around. Up to 50mph it's, 'sufficient.' Above 50 it starts to feel weaker – it never struggles, no tiny 4-cylinder screaming thrash up front, it just doesn't blow the doors off, that's all.
The transmission features three driving modes:
D – Normal power, negligible regen
Eco – Weak power at take off (full available with a heavy foot), some regen
B – Normal power, normal regen
Don't know what the other two are for but, B is just normal.
At full regen, it's comparable to the Tesla or the Focus, less than the MINI E or ActiveE.
Handling is, as yet not fully explored – got to leave some fun on the table.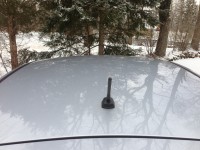 Accommodation is fine, good actually; basic automatic climate control with remote pre-heat, comfortable supportive heated seat(s) and solid build quality that belies the plastic look seen in photos.
Charging is a little low power – 15A at 240V (3.6kW) or just 8A at 120V (960W) however, the battery is equally small at just 16kWh – half the size of the ActiveE so, the end result in terms of charge times is not far off – a day at 120v, overnight at 240v. The difference does come when we look at DC, then we're down to an 80% charge in 30 mins. I'm looking forward to the availability of cheap, lower power (10kW) portable CHAdeMO wall units – this will give Nissan Leaf and i-MiEV owners access to sporty home charging.
Range. It's a 16kW battery lurking under the rear seats – we're not going to the moon. Reports have come in of 80 mile stretches and more but, below freezing, with the heat on 'toasty', 50 is where it's at. I think normal mild weather driving will see mid 60s easily, possibly up to 80+ with care. Now, if we had CHAdeMO every 50 miles, we'd be golden but, that's not the i-MiEV's territory… which is a shame as, its supporting seats and smooth ride would really lend themselves to an all-day trek.
Overall, it's good, clean, simple fun with a refreshing lack of gizmos and gadgets, if I had charging at my office, it'd be my daily driver.
<Back to EG…>
Thanks, perhaps I'll get to drive it today if I can prize the key out of his hands!
What Mitsubishi have done here is to help kick-start or at least boost EV adoption. This deal takes the cost of EV ownership out of the debate leaving only the issue of range. If that can be overcome, this will simply get bums-on-seats and that, as we all know means more EV grins.
Thanks to José and the team at Bell Mitsubishi for facilitating our entry into this program, please ping me if you'd like to get more details or get on the program ElectraGirl