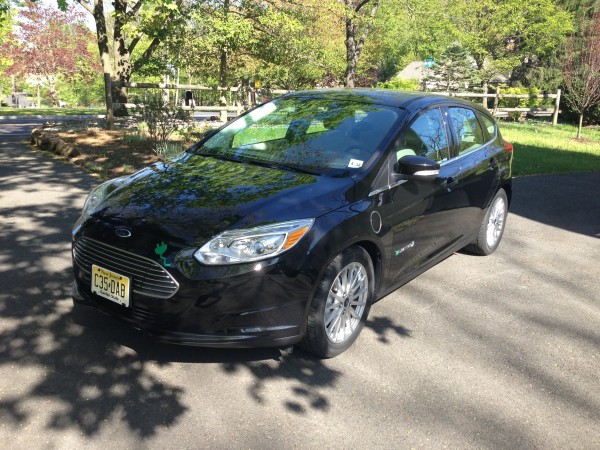 April 2013
Yes, we've gone out and bought EV number four – well you can never have too many Electric cars! What's one more on the driveway? Does this mean we are just going to keep going until we have one of every EV out there… well no, as there are a couple we wouldn't purchase though I hear that Fisker Karma's are going cheap!
From now on we will be holding our own Green Events and Meet Ups, we reckon we have enough vehicles for that these days.
What led us to the fourth Electric Vehicle? You mean besides just the why not?
We were finding that Michael's commute down the Parkway was really taking its toll on the Tesla Roadster and Michael was losing the enjoyment side of driving the Roadster to the daily grind. Just sitting for two hours driving up and down the same piece of unpleasant road day in and day out. The Parkway in itself is an okay road but I-287 isn't and neither are the backroads to get there. The continuous avoiding of potholes and all the gravel was more like being on a ski slope slalom than a road, was too much abuse for the Roadster. Decision time – lots of number crunching and calculations – it would be cheaper to get a fourth EV than repair the Roadster should it be on the receiving end of some major damage from the long, bumpy commute each day. Or we could sell the Roadster and get a Model S… Just a thought!
Looking at the available options on the market: The Leaf, the i-MiEV (already got one), the Honda FitEV, the Fiat 500e (really want one but there's no sign of them on this coast yet) and the Ford Focus Electric… Hmm, that's a little different… worth investigating… looks okay, available in not white, lots of tech stuff for the tech guy, good deals to be had. Okay we'll get one of those then. A great deal from Ford this time – $197 a month for the Ford Focus EV, with lots of extras and not much down for a 15k/year lease.
That's why we find ourselves trying to rearrange our two car garage to fit four cars.
The Ford Focus EV is a somewhat huge improvement on Fords of days gone by. They've never been my favourite company and I have avoided them like the plague for the last few years. Finally they seem to have some decent looking cars out there and they have accomplished a rather nice looking EV… In black!
---
My turn: I'm going to miss commuting in the Roadster – it still gets a regular thumbs up from passers by, even when I'm on the cruise control doing 65mph in the right lane on the parkway. At 38,000 miles it's no old lady but people don't want to buy a used sports car with starship mileage nor with daily-driver stone-chips or battered suspension. So, I find myself taking delivery of another fantastic C.A.R.B. enforced super-deal.
What kind of deal?
Well, it's a good one. I looked at lease versus buy and at different durations but one factor stood out a mile – Ford includes a rebate to reflect the federal tax credit… and, what's better, it seems to be the California version! So here's what I got:
Ford Focus Electric – top spec, cow-skin chairs (That's the only optional item)

$42,000 opening price

$11,750 rebate from Ford
$1,000 competitive lease rebate – BMW ActiveE counts!
0% finance
No sales tax – thank you NJ
$2,252 down (inc. taxes fees, registration, everything), $197/month, 3 years, 15k/yr
8-year drivetrain warranty – no worries over the battery
More toys than you can shake a stick at
Without going down a total rat-run, my dear departed Dad was a Ford man all his life and so, like a typical teenager, I bought my first car – a Honda Civic, Sorry Dad. From there I went through Honda, VW, Fiat, Renault, Audi, Suzuki, Toyota, BMW, Vauxhall, Citroën and Peugeot. Yes, pretty much everything but Ford – so ungrateful for all those years that Ford put bread and butter on our table.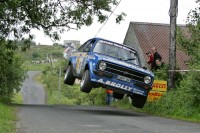 To be fair, the 70's saw
Fast Fords
dominate the Rally Car world but by the 80's and 90's that had slipped away and well, there were pretty dodgy times ahead for Henry's team and, well, a childhood crammed with "Ford VFM – Value for Money" can scare you for a long time.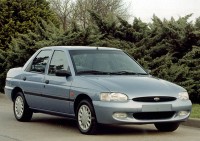 It seems that it took until the mid naughties before Ford of Europe realized that their 'VFM' crowd had moved on to Datsun then Seat, Hyundai and others and Ford of America had realized that telling Americans that they wanted big, thirsty boats whilst Audi and BMW ate their lunch, wasn't going to work anymore.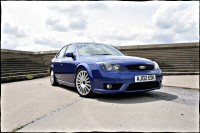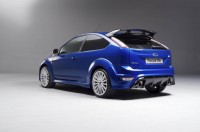 In the mid 00's Ford turned a corner and headed up the hill – some cool designs, great handling and ever improving build quality meant that, in England at least, if you wanted to stand out from the crowd, you had to ditch the BMW 3-series/Audi A4 and swap it for a Mondeo ST220 or the vicious Focus RS…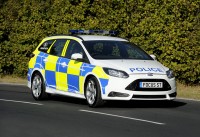 even if they were the preferred vehicle choice of the English constabulary!
If my Dad where still with us, he'd be proud of the Focus Electric and rightly so. If I'm honest, some of the controls are a little flimsy, the fake chrome is (just plain) wrong and the trunk space is fake but, the rest is alright.
This is a European car; road feel is superb, rolling on 225/45/17s the turn-in is terrifically quick and left/right action belies the fact that it's carrying a massive 'fuel tank'. The whole car feels taut, partly due to the Euro-spec seats that hug you tightly and pin you in place – over 250Lbs? You won't get out of the chairs.
If the i-MiEV is bigger inside than out, the Focus is smaller inside than out. It seats five if you don't mind being cosy in the back. Up front, you feel that the interior envelops you with a huge center section (hiding batteries) and a dash that really wraps around you, it feels cosy.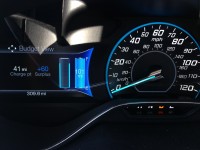 The driving controls are surprising and a little different. Like the i-MiEV there is very little type A regen (on the accelerator). It can be increased by selecting L on the PRNDL but is still not ActiveE like. Instead, like the Leaf, the brake pedal does double duty but seems to be managed very well. I've not had enough time behind the wheel of the Leaf to do a direct comparison but, unlike the i-MiEV that presents regen at the top of the pedal and friction brakes at the bottom, the Ford automatically transitions from one to the other as the speed falls. Gently press the brake at 40mph and the speed falls on regen only, hold that position and progress is arrested smoothly and consistently right down to zero where the feel of the friction brake biting is the only giveaway that regen isn't in the mix anymore. A dashboard indicator revels the point that regen is no more at around 5-10mph.
Another regen trick is the down hill assistance. Drive the car over the brow of a steep hill, side-step the accelerator and, nothing! The car neither speeds up in free-fall nor cranes down in a whine of regen. It's odd at first but, useful once mastered – it replaces my default use of cruise on steep hills to hold speed.
Purists would certainly dislike the lack of feel from the brake pedal but, I get my braking feedback from my head so, for me, it's fine.
Online
Late to the EV game, I assumed that the Focus Electric was a last minute CARB mandated thorn in Fords side. I assumed that I'd be driving a regular Focus with an odd drivetrain. I assumed that I'd be lucky if there was even a web app let alone an iPhone App. Wrong, three times over. Ford builds the Focus on the main production line, it's integrated into their standard procedure; all Foci could be electric tomorrow if demand switched. There is a dedicated web site, iPhone and Android apps, a hosted community and, in short, they blow the doors off of the competition.
Behold the bev.myFordMobile.com site – click on any picture to display a gallery of fourteen screenshots from web and iPhone app:
The site tracks driving, charging, power consumption, how efficient you are with braking, accelerating and cruising. These stats are then offered up against the local, regional and countrywide community in ranking tables. Following advice from EG I was able to quickly become a Zen Master and hit the number 2 spot!
Going deeper into the online experience reveals a rich well thought out web site. The system allows me to register certain locations as places that I visit and charge at. I can then program up to fourteen "Go Times" that the car understands as cues to both "Value charge", i.e. plug in when I get home but don't charge until the middle of the night, but well in time to meet my 6am "Go Time", and, precondition… And, I can specify the temperature I'd like the car to hit to – no guessing the night before.
I've spent quite a while customizing the experience, setting up my locations (which now magically appear on the Nav), my alerts – email me when I start charging and how long it's anticipated to take and let me know when it's complete but, text me if there's a problem during the charge. Oh, and, that's just my key, EG's key has a whole different set of statistics and customizations… And, she doesn't know this yet but, she's also power limited and with a maximum top speed and stereo volume – that's the MyKey feature.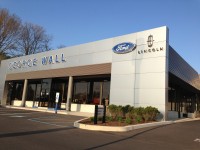 A big difference that I've seen with the Ford experience has been the dealers. I've heard of certain dealers of a Japanese company not really having a clue about charging, the two dealers I've encountered so far have both been very helpful, especially George Wall in Tinton Falls – they're right next door to my office. I strolled over one lunch time and asked if, I was stuck, could I charge my car here?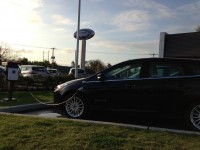 Everyone was more than willing to accommodate – no problem at all, drop the car off when you get to work, pick it up when charged if you don't mind. I tried that out on Friday – worked a treat.
Over all, I have to say that, I'm impressed with the car, the tech and the dealers – maybe I've been missing out all this time.
---
Final note: Michael takes the Roadster out for fun drives now and really enjoys his time with the Roadster, back to those early days of ownership. Guess I'll be waiting a bit longer for my Model S then…