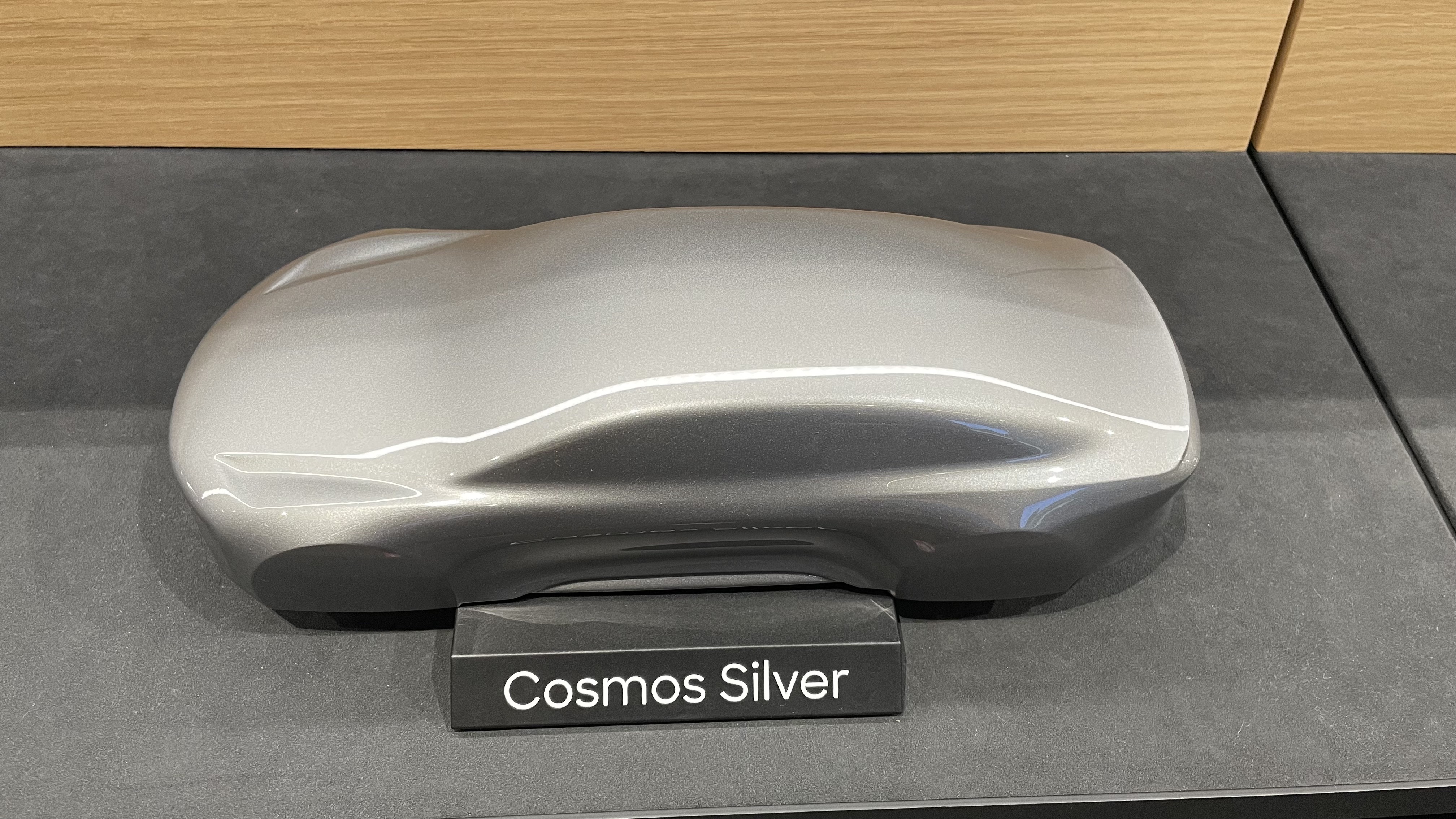 Recently we went to test drive the Lucid Air - well my sidekick drove while I was relegated to the back seat - seriously do they not know who I am??!!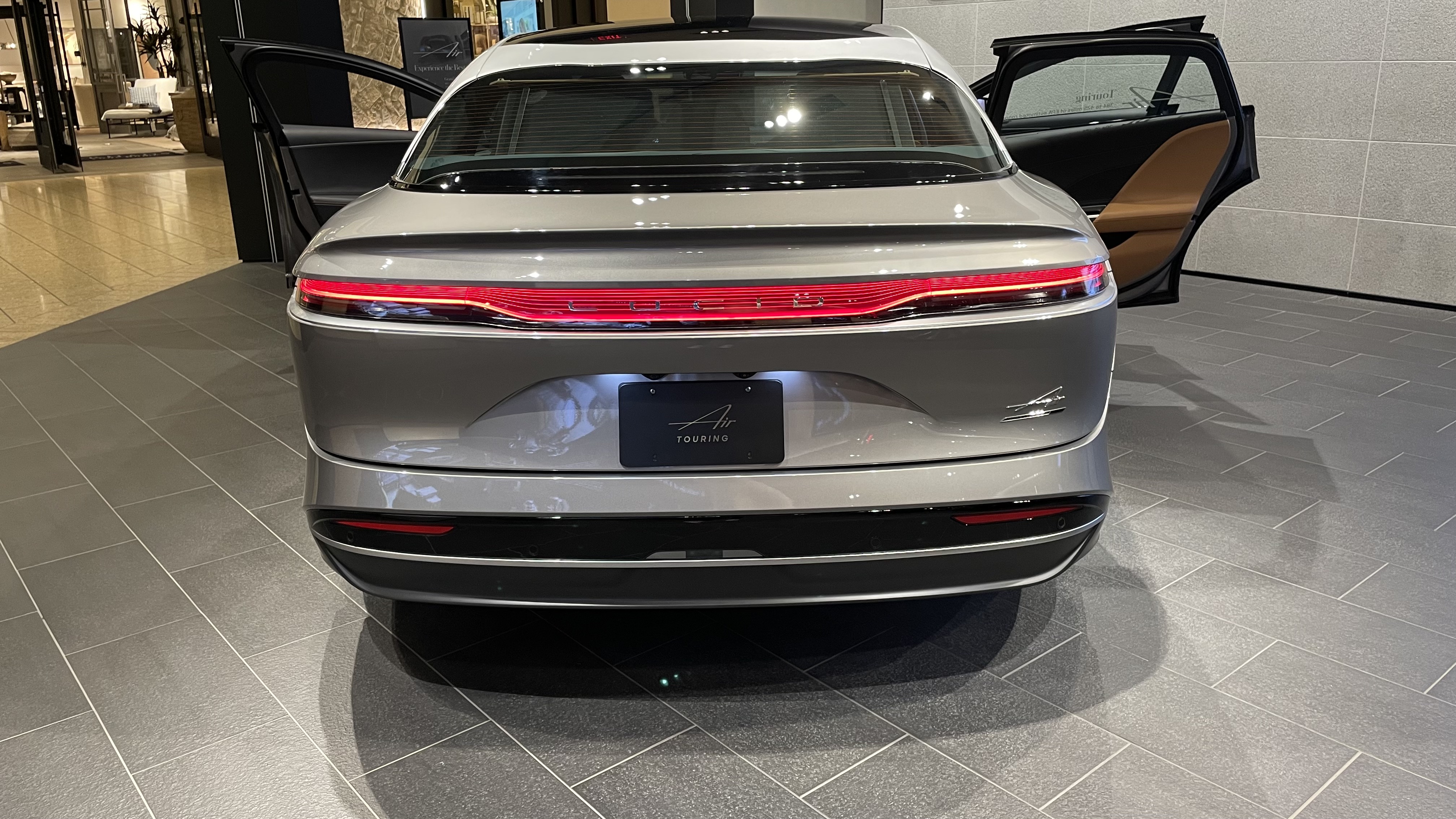 Anyway - we'd taken a look around the car at the weekend and liking the look of it, but not having time to test drive there and then, we went back a couple of days later. The car is definitely on the larger side of cars, and I think we'd have a squeeze to fit it in the garage, we'd have to tuck the mirrors in and there would be a lot of bonging from the car as it decided it was too close to the walls. The froot and boot are very spacious too, certainly no worries on where to put the suitcases, although you may forget where you have put stuff if you use the under froot and under boot spaces. The car is very spacious inside, and if you get the Pure model then you have more space in the back as they remove some of the batteries, so any taller passengers have more than enough leg room. If you get the other two models then you lose a little of that space. Those pumps are pretty awesome too!!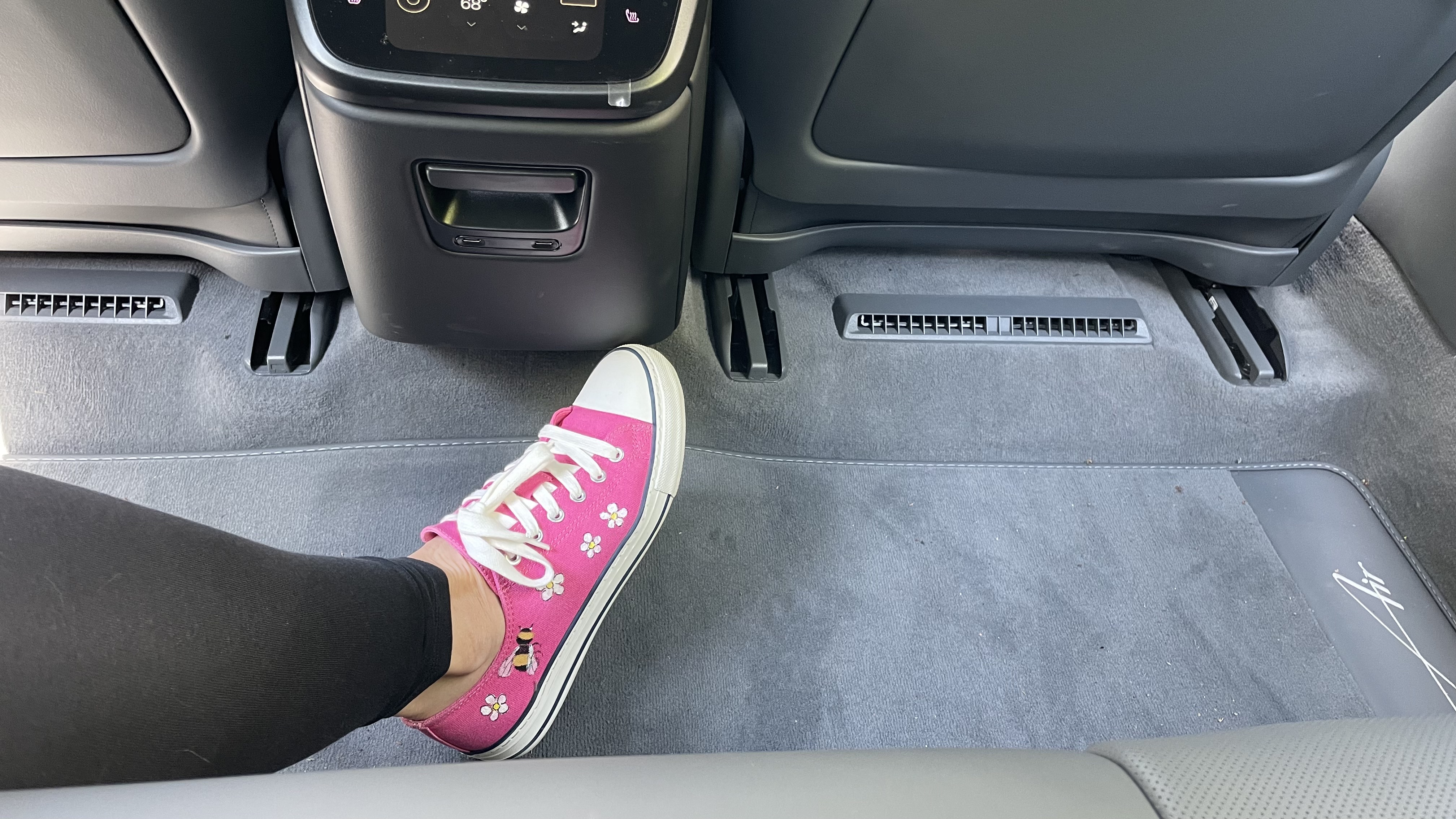 Sitting in the back I felt that I was a long, long way from the driver, almost like being in a different car! Conversations would be difficult and I can imagine a lot of shouting. I had my own air conditioning and heating vents so that was nice.
The car we test drove was the Pure with a vegan interior - which is the only kind of interior to have - well at least it was black and grey! The showroom models that they currently have are tan - not for me!
The Pure model has an EPA estimated range of 410 miles, that is pretty good, you can definitely take a long journey with that range. It has a 0-60 of 3.8 seconds, but that's not necessary for me, I am never going to go that quickly. If you were to choose the Touring or Grand Touring models then you get 425 miles and 516 miles range respectively. Also they are a bit quicker to 60mph if that is your thing. The car, as standard, includes things like lane departure, automatic emergency braking, blind spot and rear pedestrian warning, driver monitoring system, park distance warning, amongst others. To get all round sensors to alert you to just about everything, and semi-autonomous driving (not ready yet), you would have to purchase the DreamDrivePro for a "few"extra dollars! (Read that as $10,000 extra!)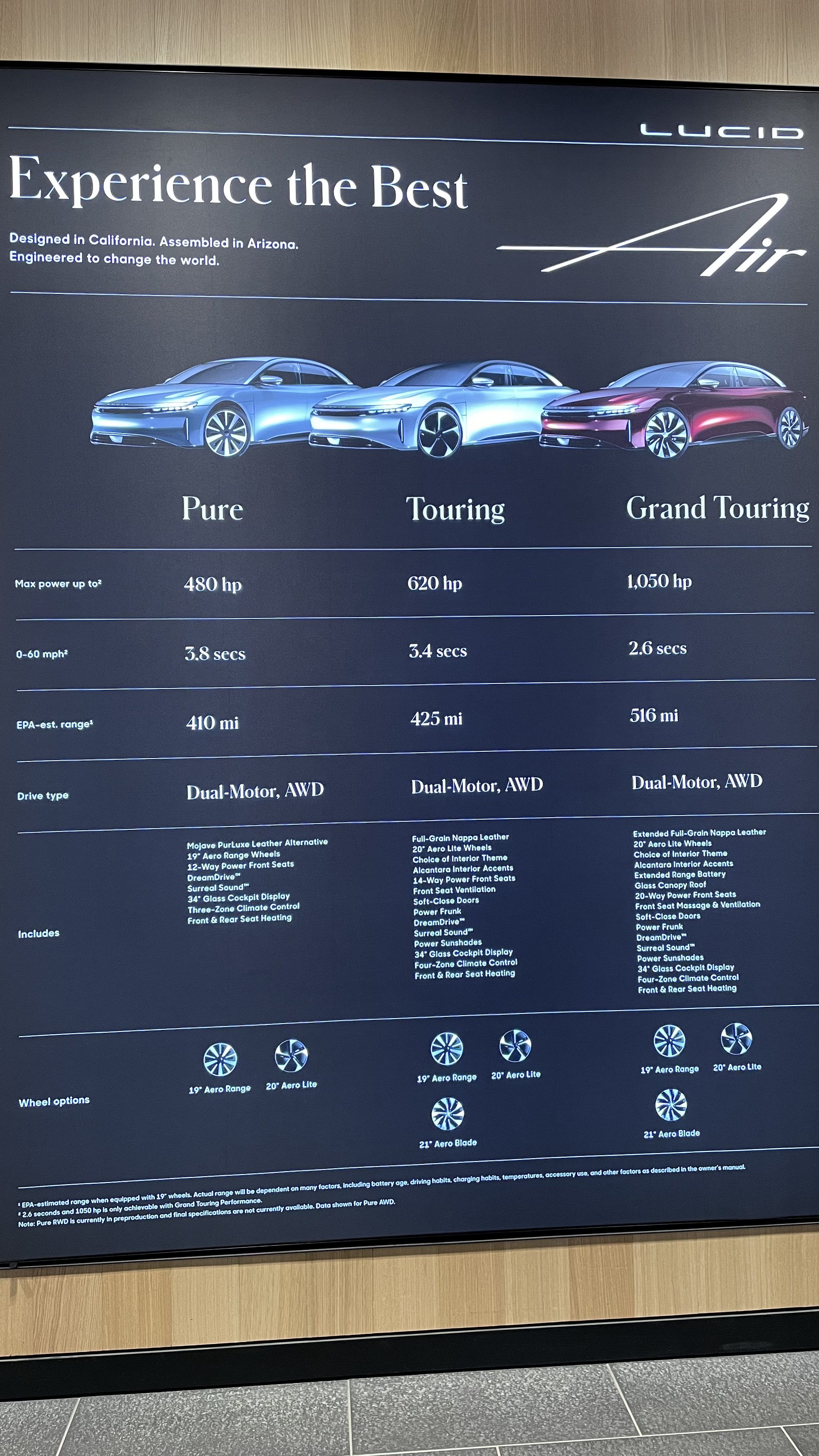 Back to the test drive - the car does appear to have a noise generator which is rather loud when you are just setting off, once that is gone then you can hear the motor as the speed increases. From my backseat perspective the car drives really nicely, it has a firm suspension (which we like), so no bouncing around. It has good acceleration for a large car and the regen braking seems to work too. There are a lot of screens, two of which seem to have the same purpose. I think it would take some time to remember what is where. Thank goodness the indicators are where they are suppose to be as well as the accelerator and brake pedals.
Over to my sidekick for his thoughts on the actual driving of the car.
At the wheel
I had some preconceptions about the Lucid Air, mainly that it was an ostentatious land yacht for the well-heeled, so, not a great start really. When I sat in the drivers seat, in a model that wasn't the same tan colour that matches the skin of the elderly drivers I anticipated it was created for, I was pleasantly surprised. The interior was modern, grey and black and adorned with silver accents however, they still managed to find places to add wooden ascents to - I like wood in my cars as much as I like fake carbon fibre decor in my home.
The instrumentation is vast, it's a wall of blurry graphics, partly because, my eyes but also because they've chosen a low contrast visual style. Remember 1980's LCD screens that have the backlight at the edge creating a washed out look? It creates a sense that the display can't do really-black. There are a few different themes available but the best still looked washed out.
The various displays do provide a big canvas to which touch-sensitive buttons have been added, some permanently, on the left such as the more regularly used features like lights and wiper controls. I can see why someone coming from a traditional car which has buttons for everything would be drawn to that and, as someone coming from the minimalistic Tesla world where finding most things begins with a quest, I initially thought the same but… I never touched them during the drive and, I got to wondering after the drive, how often do I really need to touch the light switches? Once, twice a year? Maybe it's superfluous in 2023 but more, I can't think of what I'd like to see in that space, do I actually need all that screen space or is it just a case of more must be better?
Pulling out of the parking space, the panoramic view proved to be a great feature. With increased confidence I can imagine that being the only place to look during a manoeuvre. The car also features automatic blind spot mirrors that appear on the expansive display when the indicator is turned on however, somewhat ironically, the image appears behind the steering wheel, rendering it useless. Maybe that's the purpose of the far left and right screens, they could be mirrors and we'll do away with the old-skool ears that stick out of the sides of every other car.
Out on the road, the car feels taught and still compliant. Riding on 19" wheels the package we drove included the more forgiving tyres so the default drive mode of 'Smooth' felt akin to a typical, modern executive car, neither 80's land yacht nor teeth chattering M-Series however, it's adjustable! The car offers Smooth, Swift & Sprint modes which adjust a number of the cars features such as accelerator mapping, maximum regen level and shock absorber characteristics.
In smooth mode the drive is akin to 'Chill' mode in a Tesla, the pedal is initially unresponsive and calls for a significant amount of pedal movement to get up to speed. Suspension is at the softest and the regen can be adjusted between great (Normal) and really great (High). One-pedal driving is easily accomplished - more on that in a moment.
In Swift, the accelerator mapping is, to me, normal but regen is reduced - the high mode is locked out - which is a disappointment as I'd have it in Swift all of its life. That said, regen in swift isn't absent, just not as strong. Suspension becomes tighter but not harsh, again, about right for me actually.
In Sprint, which calls for a confirmation prompt to enable – seriously, come on, it's not track mode! – the suspension becomes a bit harsh and full power is unlocked. Now, let me take a moment here, I've never accidentally pressed the accelerator more than I wanted, I understand it's a variable control, not on/off, I get that pressing it all the way down will make the car go fast in Sprint/Ludicrous/Race mode but, if I don't, it won't… even in its most aggressive setting. I really don't need a control to choose between half-power and full-power modes, I just won't press the accelerator if I don't want full power!
Making progress in any mode was, I found, hindered by a great feature - hill hold. Cars with one-pedal driving tend to have the option of automatically applying the brakes when the car comes to a complete stop and releasing them when the accelerator is pressed. In the case of the Air, both of these are a little mistimed. Setting off, the brakes seem to hold too long and when they release, the car jolts forwards – it's not a great deal, no one is going to spill their G&T unless it's brimming – and on stopping, it kicks in just a tad too early creating the same problem in reverse. It just needs a software tweak.
The Air is for Aerodynamic. The car is aerodynamically obsessed and, I'm a fan. Who needs to waste power. The upside is the great range and downside is that the tyres are a little narrow for efficiency but, that's not a problem, narrow tyres are cool and whilst narrow tyres tend to be a little harsh, on account of their having sturdy sidewalls, the car is perfectly tuned for them. They can also be quieter which is great as all that efficiency leads to a near silent cabin. In fact, the only intrusion into the silence was the rather noticeable motor noise - yeah, I was surprised too, the front motor and transmission is actually quite 'whiny'.
The rest of the drive was solid, which is how the Air feels, solid and confident if a little whiny.
Charging
For charging - its fast! Lucid reckon on 200 miles of range in 12 minutes, that's pretty impressive, it must have something to do with the 900V+ capability. For when you are out and about Lucid have partnered with Electrify America. The Lucid does have bidirectional power flow which means that soon you will be able to power your home from the car should there be a power outage. There was a bear above the charge port on the one we test drove, not sure if that is included or not!
The best thing about the car - it comes in silver!!
The downside - it is just too big, if it were a bit shorter and narrower then maybe.