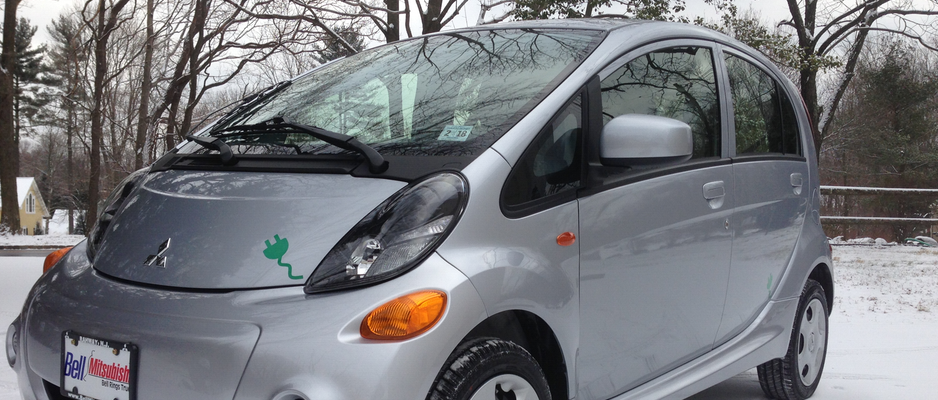 Saturday 17th January 2014
1 year, 11 Months and 3 Weeks with a 2012 Mitsubishi i-MiEV
A little history first – It's almost two years since we picked up the i-MiEV. When we first went looking for another Electric Car to add to the growing fleet, we weren't quite sure what we would be getting. The need for a third Electric Car was primarily for the children to use. My daughter for getting to classes at University and for my son to learn to drive in. My daughter had passed her driving test in the MINI E, quite an exciting time for Electric Cars and I believe she's one of the first to pass her test in an Electric Car.
When we began our search Mitsubishi were offering rather a good deal. They were offering a 12,000 mile per year lease for $95.45 per month with only the necessary down at signing. (That being the taxes, etc, etc, which came to around $850.00.) With a quick test drive, we signed on the dotted line and took possession of the i-MiEV. For the whole two year lease we were looking at a total cost of around $2,000, which was less than the down payment on the ActiveE!! With adding a third car the biggest issue was where was it going to live. We have a 2 car garage so would it have to live outside? Well, with careful planning it turns out you can fit 3 cars in our garage. The i-MiEV is very short and tucks in rather nicely behind the Roadster.
First impressions of the i-MiEV were not great, it was okay looking, a bit funky and definitely out there. Although, not so much out there for us Europeans, but probably a bit more so for the American market. I was told it was small but strong – that having something to do with an egg and physics… I'm still shrugging my shoulders on that one! The car is basic, very basic, only one heated seat, a plastic steering wheel, the heating is kind of on or off, and it has basic information about range and charge on the car. It does, however, have the ability to pre-condition from the key fob – so, it has one cleaver feature. As we got one that had the winter package, it came with CHAdeMO DC Fast Charging, which will be useful when they have Fast Chargers within range for us… Ummm, still waiting after 2 years.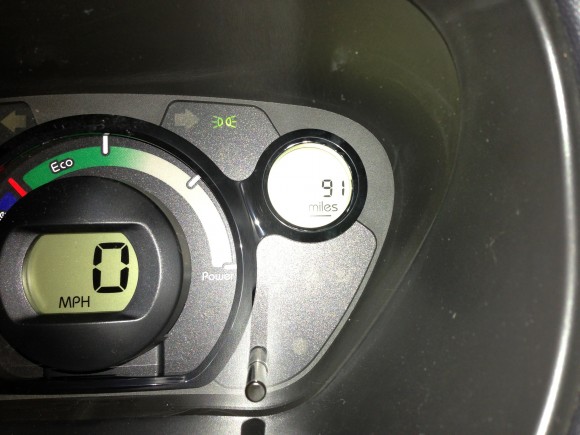 The range on the i-MiEV is limiting. Its EPA rating is around 62 miles. We get nearer to 90 in the summer and down to 50 in the winter. We were not going far in this car, and we knew that when we leased it. But we bought it for the children to pootle around in and it works for them. Always best to pre-condition it in the winter though to extend that range just a little bit further!
Mostly over the last two years it has been the children who have driven the i-MiEV. I have been totally okay with that, as I didn't much care for it and was more than happy driving the ActiveE and occasionally the Roadster. My son learnt to drive in the i-MiEV and passed his driving test in it. The children thought it was wonderful and loved driving it. They didn't care what others thought as they thought it was futuristic looking and loved that it was electric. They got what it meant to drive electric, they understood that they needed to plug it in every night and that they had to take note of the range left before they set off anywhere, especially after our 'fun time' with the i-MiEV below. My daughter was able to charge at university so that made a difference to being able to use or not use the heat in the winter.
Now with one weeks left to the end of the lease what are my thoughts on the i-MiEV?
Well, I have been driving it a lot lately, and I mean a lot. We took out a 12,000 miles per year lease and we hadn't even made 12,000 miles after 20 months. So the decision was made that we should take the i-MiEV whenever we could and try to put on as many miles as we could – well we have paid for them! I know I have to remember to pre-condition the i-MiEV before I go out, it really does make all the difference to the range and it is rather nice getting into a lovely warm car, especially if the last person in it left the heated seat turned on as it warms that too. The car is incredibly basic, it's a race to who gets in the driving seat as they get the heated seat! The heat is either on or off, even though there are different settings, they don't really mean that much. It's best to just leave it on auto and don't touch! On the dashboard I get to see my speed and the battery level. On the trip computer I can have miles to empty, outside temperature, trip A, trip B, miles to service, months to service and display brightness. The battery level is in 1/16th increments, we refer to them as "pips" – I have no idea why, but it was said one day and seems to have stuck. The range-o-meter shows whether I am using power, charging the battery or in eco driving mode (the one where you want to be). Regen – It doesn't have a great deal but if you put it in B mode it has a moderate amount that is nowhere near the Active E or BMW i3 regen but it is acceptable. In D mode it has hardly any regen to speak of. There is an Eco mode which gives weak power when you first set off and has a little regen. We drive it in B mode all the time.
I wasn't sure how I was going to feel driving the i-MiEV, I have never been its biggest fan, it was all a bit too basic for me. But, I have to say I have been rather surprised by my reaction to driving it and as I start driving it more I start to get use to its foibles. The one most noticeable thing about the i-MiEV is that it works, it just works. It never shows up any faults, it never has in the last two years. You just point it in the direction you want to go and it's off, it takes all road conditions in its stride, it doesn't care about bumpy roads. The i-MiEV is a little bouncy for me, I much prefer a firmer ride, but saying that the i-MiEV does not make me feel sick. The i-MiEV is the easiest car to park with it being small and narrow, it fits into spaces that most cars on these American roads wouldn't even be able to consider. I've actually been taking it instead of the i3 – oh dear!! Well not really as I'm really saving my i3 miles for when the i-MiEV goes back and then I'll be driving the i3 all the time.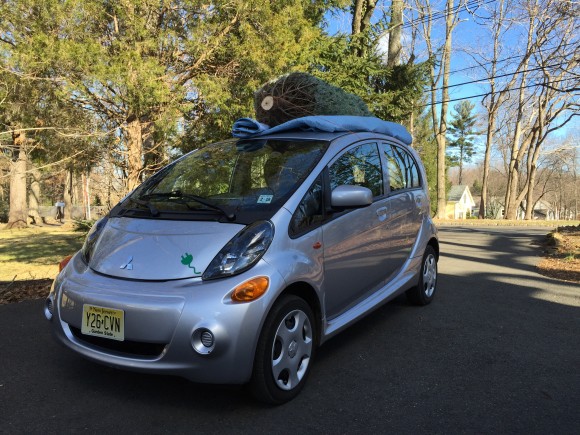 The i-MiEV is what it is. It doesn't pretend to be a super fast EV or a posh EV, it doesn't put on airs and graces, it doesn't have much to offer but you know what? It works and it works really well and without fail for the last 2 years.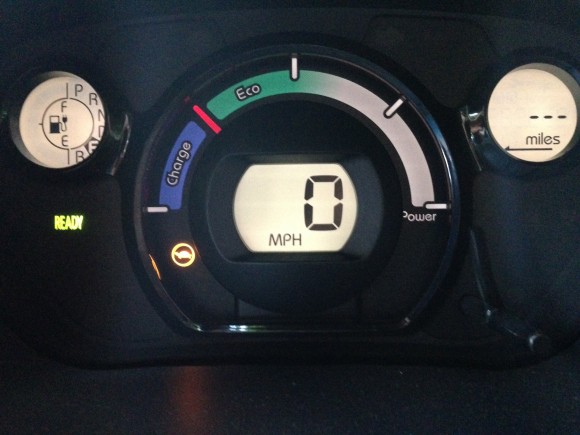 Fun times with the i-MiEV – well that would be the time we had to test the maximum range of the i-MiEV. And I mean had to – The children were picking us up from the airport but hadn't set off with a full charge and drove on the motorway with the AC on, arriving at the airport with not enough range to get back. We drove back on side roads as slowly as we could with the AC off, even though it was the middle of July. The miles to empty were rapidly disappearing and we were taking advantage of every downhill possible, always hoping that no was around to slow us down and then creeping up the hills slowly and gently. We saw the turtle when still a few miles from home and knew it would be touch and go as to whether we would make it. We were hoping that at worst we would make it to our road and only have to push it up the hill home. But, with absolutely nothing left in the battery we rolled into the driveway – just. A lesson learnt for the children!!!!
With one week left on the lease, what do we do? We can return the car and look for something else, or do we extend the lease for a month as, at the moment we really don't know what else we would get.
At the end of the day you can't go far wrong with an Electric Car that works and only costs $95.45 a month.