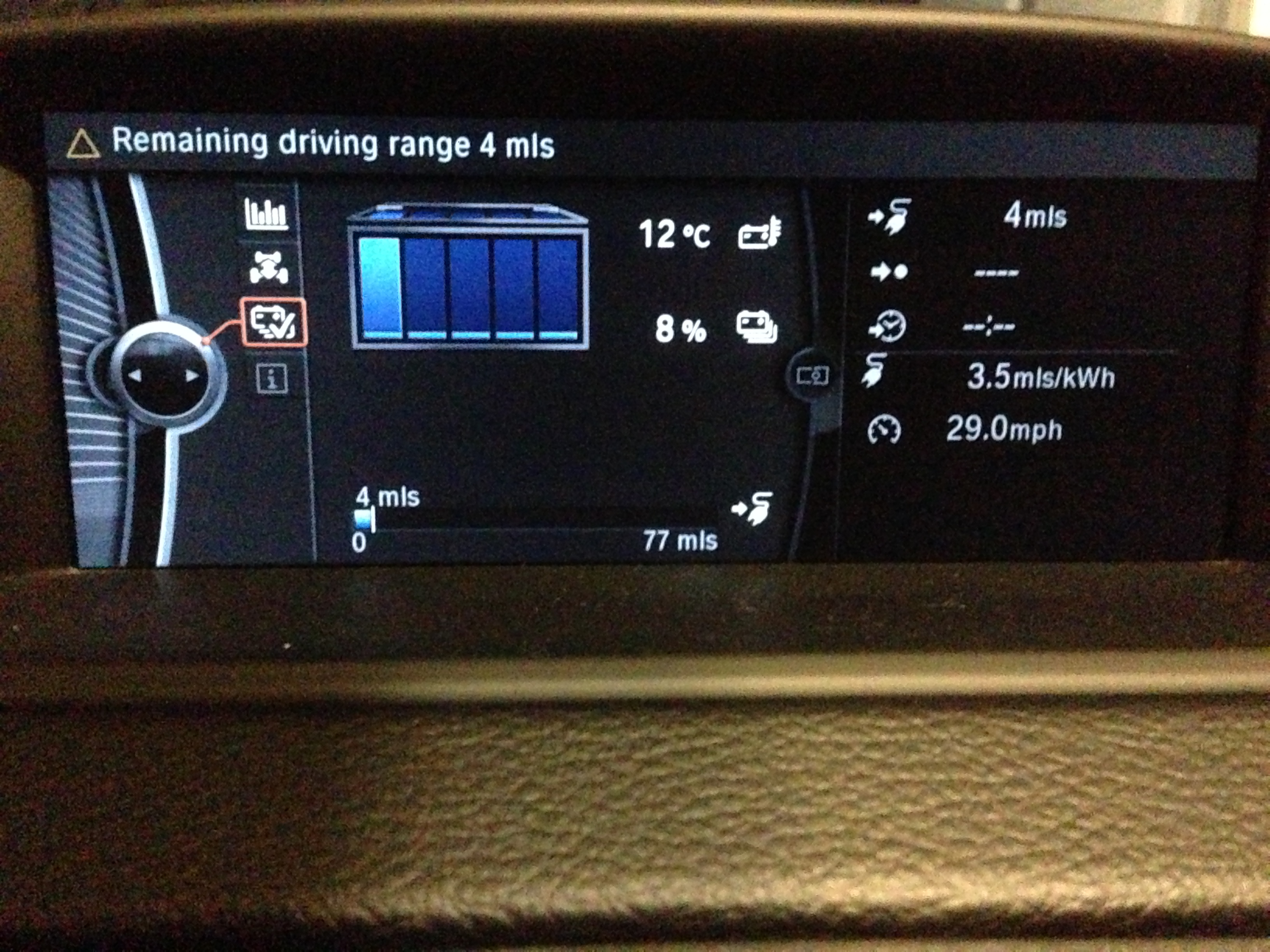 1st June 2014
Here are some thoughts on our love of EV's, why range doesn't make us anxious and how the i3 met our high level of EV expectations to join the family and become EV number 6 – just!!
So where did it all begin and what made us go 100% electric?
Well, it all began five years ago with the arrival of a rather nice looking Electric Car…
Electric Car Number 1 – The 2010 Tesla Roadster – 242 miles of range. The long awaited and much anticipated Tesla Roadster finally arrived on our doorstep in August 2009, making MPT very happy. This was the first ever EV sports car with unrivalled acceleration and amazing regen. It was super quiet and so smooth, handling the roads with amazing precision. It looked amazing the day it arrived and still does today, drawing a crowd wherever we go. Heads turn, thumbs go up and smart phones click many a picture – it never gets old does it MPT? As it was EV number 1 it was all so exciting and new, we couldn't get enough of it. We liked it and we knew we would have more EV's one day soon. Always put to bed (oops – I mean in the garage) clean!
Speed: Fast
Ride: Firm
Keep clean: Medium
Fun factor: Make your hat fall off if it's not tied on
Electric Car Number 2 – The 2009 MINI E – 80 to 120 miles of range. We finally decided on the MINI E in December 2009 and oh my gosh, this car was super brilliant and the best EV ever (says me and you know I'm right!). Even though it was a factory conversion and had lost its rear seats to batteries, it was super exciting. It was different to the Tesla Roadster, it rode differently, handled differently, but still had brilliant acceleration, super regen, was so smooth and quiet; all the things we expected from it. Far too much fun in a small car that handled the roads superbly. Such super duper fun! Oh, did I say it was the most brilliant EV ever? It's the EV at the top of my list to take back should it be offered again.
Speed: Zippy
Ride: Just right
Keep clean: Easy – Medium
Fun factor: Super duper
We were six months in to owning two Electric Cars and we still had our one petrol car, you know – just in case we needed it. But even though the two EV's only had two seats each, when we went out as a family of four we would take our two '2' seater EV's. It was cheaper and so much more fun.
So it was at this point that we said goodbye to the rather nice looking Audi Avant 'S' line – the last petrol powered car we still owned and the last we would ever own. In six months we had driven it 17 miles and that was to the dealer and back for a service. What was the point in keeping it any longer? We sold it and never looked back.

This was the moment we became 100% electric.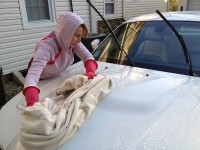 Speed: Fairly good
Ride: Just right
Keep clean: The most washed EV ever!
Fun factor: It wasn't the MINI E
Electric Car Number 4 – The 2012 Mitsubishi i-MiEV – 60 to 80 mile range. This EV joined our family in February 2013, as at $95 a month it was too good a deal to pass up. We weren't really sure what we were getting. It's different to the others but still has that wonderful quiet and smooth ride. It has modest acceleration, definitely not in the same league as the Roadster (I probably just stated the obvious there). It has less regen than EV's number 1, 2 or 3 but still has a quirky side to it that makes it fun to drive. The selector for choosing the direction of travel and level of regen is a little clunky, but the childs seem to like that aspect. This is probably why the i-MiEV is the preferred EV of the children. I think this is also partly due to its funky looks and the fact that it is just different.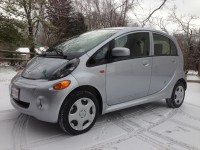 Speed: It gets there
Ride: Bouncy
Keep clean: Top marks for being the super easiest EV to wash
Fun factor: You have to like quirky
Electric Car Number 5 – The 2013 Ford Focus Electric – 60 to 90 mile range. We picked this up out of necessity in April 2013. This is different again to the others but still has the same quietness and smoothness. It accelerates well but does not have very good regen on the accelerator and has the worst brakes ever… They can give you whiplash! It's aerodynamic and we see a good M/kWh from it, this is why it serves the purpose of being purchased as the commuter car. This is not my favourite EV and has the least EV feel of all the cars, it's just too much like its petrol version, and that is what probably puts me off it a little bit.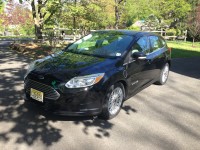 Speed: Okay
Ride: A bit soft
Keep clean: This is the worst car to clean
Fun factor: It gives me butterflies
I think it can be said here that we do rather like EV's.
This is also where we purchased an electric lawn mower – two batteries will take care of half an acre of lawn!
Electric Car Number 6 – The 2014 BMW i3 – 75 to 92 miles range (too soon to know for sure though). We were a little reluctant to begin with on the i3 but opinions can be swayed and minds changed apparently or obviously, depending on how you look at it.

We picked the i3 up at the beginning of May 2014 – Hmm, what to say about the i3? Well 'WHAT!?!' instantly springs to mind. Yes, even after a month I still finding myself thinking that. As it's EV number 6, we've kind of covered everything. We wouldn't have even considered it, if it wasn't quiet, smooth, accelerated well and had good regen. Note: It's surprisingly quiet, I mean really surprisingly quiet. It has some new features that we've yet to test out properly – No Michael, parallel parking in your own driveway is not considered a real test of the park it yourself feature on the car – Goodness me, I don't know what he's thinking sometimes! It's always exciting to have a new car but with the lack of enthusiasm prior to the purchase of the i3 it's definitely taking some getting use to.
The i3 is our first all-plastic car so it's going to be interesting to see how it holds up. Will it suffer stone chips the way metal cars do? I am curious to see what will happen and I do hope it is nothing, as I do like my cars to look nice all the time.
I think the i3 is slowly growing on me, it's fun to drive, it's super easy to park with it being short and narrow. It looks small from the outside but is very roomy on the inside. It gets quite angry if you get too close, or what it thinks is too close to something and that's just pulling out of the garage. I love the regen, so happy that it's like the ActiveE. I'm also glad we chose the 20″ wheels, it makes the ride so much better. Oh and it isn't white – a double, triple plus!
We are so happy that BMW made the bold decision to extend the driving controls to include no creep (love it), auto-braking (takes some getting use to) and hold that works amazingly perfectly (just brilliant). They do these wonderful things but omit a steady 100 mile range, shame on you BMW for not giving us that.
The instruction manual is built into the nav screen so I can browse through it whilst I sit waiting for my son to finish school. But I cannot find where to stop the ventilation coming on when I first turn the car on though. There must be a setting for that somewhere. Any ideas BMW? Oh, and where is my State of Charge and my Battery Temperature? I really liked those features on the ActiveE. They must be hiding somewhere – click, search, twirl the dial – nope, cannot find them.
Oh, I almost forget the washing part – It is easy to wash although not to dry as there are so many small nooks and crannies where water collects that I do spend a lot of time drying it. I haven't, as yet, seen any water in the 'froot', so maybe it is more waterproof than BMW thought.

One quirk though that I have noticed on my i3 – The odometer reading and the trip counter do not match. I thought it was weird so when I reached 1,000 miles I zeroed the trip counter so I could watch the two and see what happened. The odometer is simply off, it rolls onto the next mile whenever it feels like it. Sometimes not moving at all for 2 miles, other times changing after only driving 0.4 miles. it is so weird that I passed it over to Manny (at JMK) for further investigation. What it does mean though, and I am annoyed at this, is that I cannot get my perfect 1,111.1 miles… Ugh.
Speed: Nippy
Ride: Better with the 20″ wheels
Keep clean: Easy to wash, pain to dry
Fun factor: Nifty
Six electric cars down the road and what are we seeing? Well, something rather interesting – In all the EV's that we have owned not one of them (except the Tesla Roadster) has had more than 100 miles of range. I would have thought, as you might have too, that we would be buying cars with more range not less. What does this mean? Well it means that a 60 – 100 mile range EV works, yes it really does work. Would we like an EV with a steady 120 miles range? Of course we would. Do we need it? I have to say we do not.