Tesla
Spreading the EV Word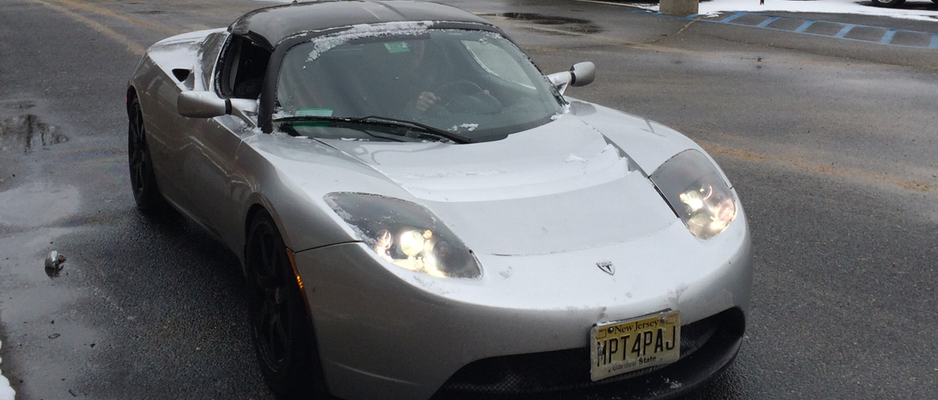 Saturday 10th January 2015
If we teach the youth of today how to look after our planet, about how to care and protect their environment, then we can feel safe in the knowledge that we have done our job, and our work is complete.
If we teach the youth of today how good Electric Cars are, and how much fun they are to drive, and how cheap they are to run compared to petrol cars, then my hope is that they will all be asking their parents for an Electric Car when they learn to drive. My other hope is that they will tell their parents all about Electric Cars and persuade them to go out and get one. I am hoping.
Which is why we found ourselves in the Tesla Roadster at 6:30am on a snowy morning heading 30 miles south to Red Bank Middle School. We had been invited to speak to a group of 7th and 8th grade students about Electric Cars and in particular, about Tesla's, as that would tie into the talk they were having about Nikola Tesla from Sam Mason, who is part of the Tesla Science Foundation. This particular group of students participates in a class every Friday called AVID (Advancement Via Individual Determination). They learn about different career choices and what they might major in at college to be able to do that particular career. They also learn about what they need to know and prepare for when thinking about college in a few years time.
As the snow continued to fall, we asked ourselves why we were driving out in this kind of weather? We reminded ourselves why we drive Electric Cars and how important it is to continue to spread the word. As we continued on, we found some roads a little slippy in places but everyone was driving considerately and no one was speeding or bothering us for driving cautiously. We arrived at our destination with a rather bleak looking Roadster, it was clean when we had departed and now looked like it had been through a snowstorm – oh, wait – it had!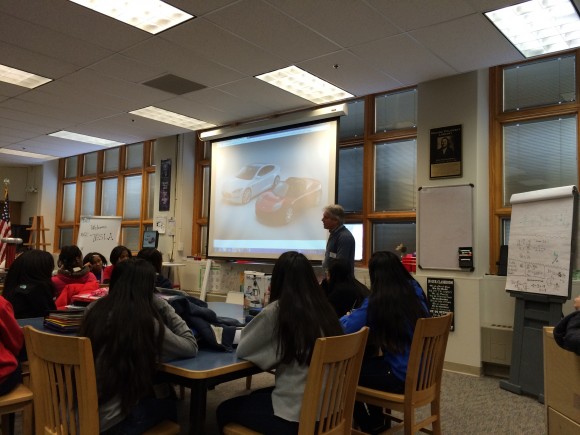 We headed inside to meet the teachers and the AVID students. My sidekick was introduced to the students and got up to to talk about Electric Cars, the technology behind them and the types of careers that Electric Car manufacturing offers. The students were interested to hear about the Roadster, the 0-60 speed always seems to be the most interesting – goodness knows why. In talking about electric cars and the technology, we sometimes hand round a piece of carbon fibre, they were amused when asked if they could break it! They couldn't, but lots of giggles ensued as they passed it to their classmates, hoping that one of them could.
The highlight for the students, as always, was getting to see the car up close. Everyone headed outside, putting on coats, hats and scarves, it was still -2℃ outside. It was all oohs and ahs when they saw the car, all except one girl who said she'd rather be inside as it was too cold. Well, that was until her Principal got into the car, then it was all a lot more interesting. The phones came out and the pictures were taken. All the students were taking selfies and no doubt posting those onto FaceBook!! Well, not during school hours of course! When asked if my sidekick would drive the car so they could see it in 'action', he was in the car faster than you could say 0 – 60 in… He was asked if one of the AVID teachers could take a quick spin round the car park, no problem, and they jumped in. As my sidekick gently pressed the accelerator – who I am kidding? As my sidekick firmly pressed the accelerator the car took off like a rocket, the oohs and the ah's were back. They were all amazed at the speed at which it disappeared from sight. The teachers' reaction was a huge EV grin on his face and 'I think I might have to buy one!' Then the Superintendent of the school appeared and we were asked if he could go for a spin in the car. Well, yes of course, hop in the passenger seat but do hold on tight. When he got out after his little tour of the car park he was amazed by the smooth ride and the speed of the car. The students would have loved a ride in the car but we think parents would have to give their consent first.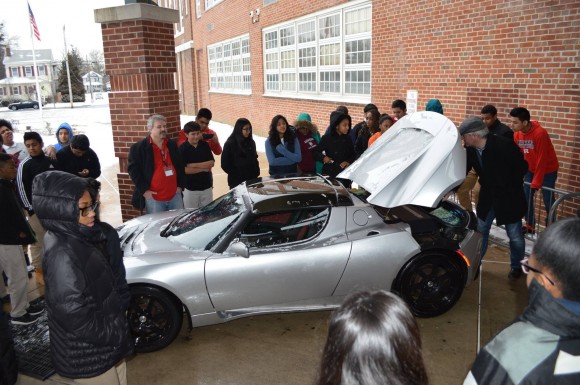 After showing the car at its best we headed home. Thankfully, the snow had stopped and the roads were now just damp.
In all the years that we owned petrol cars, we were never asked to do this kind of thing however, since we've been driving electric, we're asked more than we can accommodate.