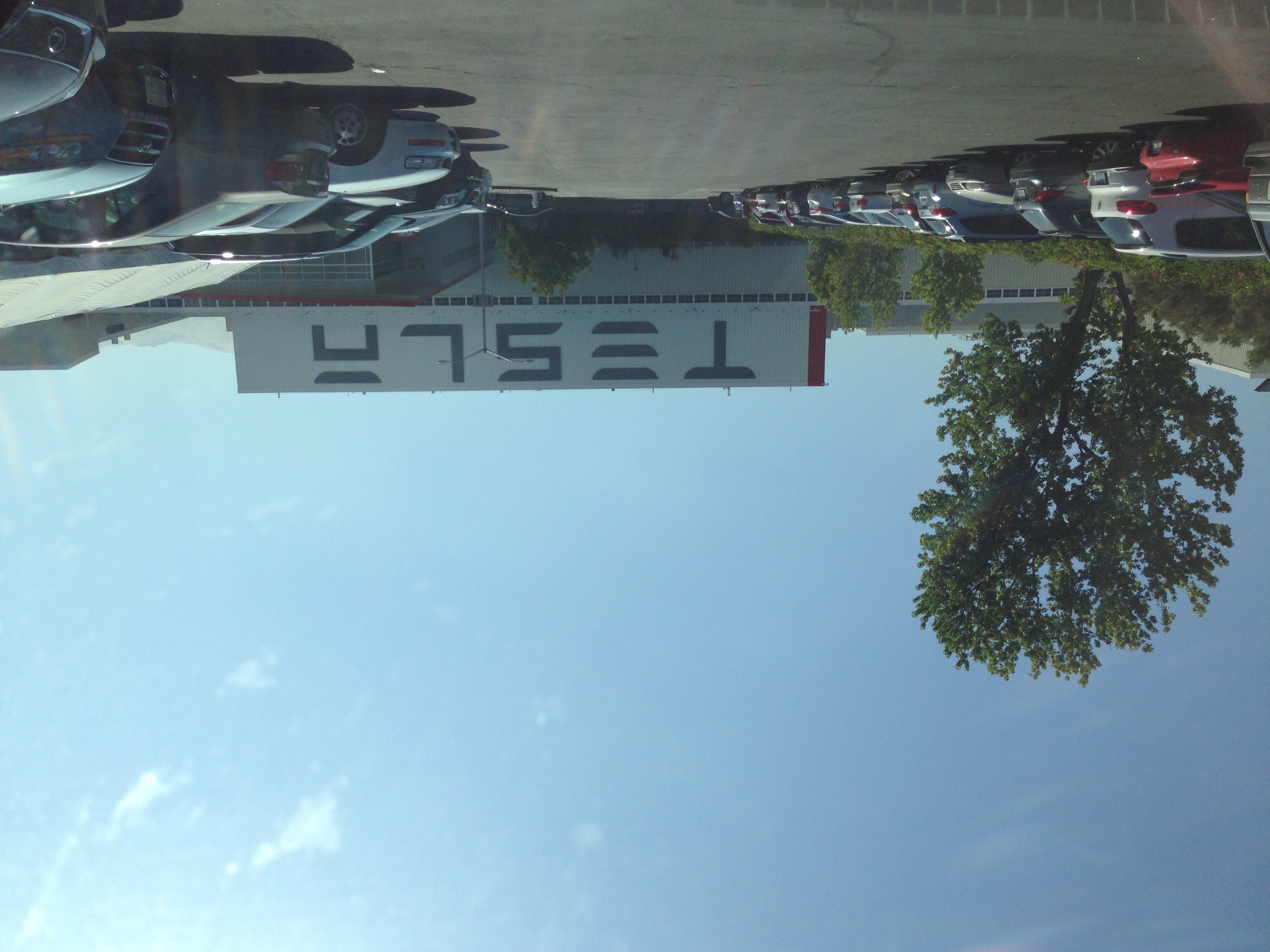 12 – 14th July 2013.
TESLIVE – The event for people who really, really like all things relating to Tesla and their cars. We'd all been waiting for this event and it was finally here. More than a year of planning and organising had gone into making this the best, it had promised to be a good event and it did not fail. Michael is one of the members of the Steering Committee of TESLIVE, so this was a really big deal for him, the pressure was definitely on.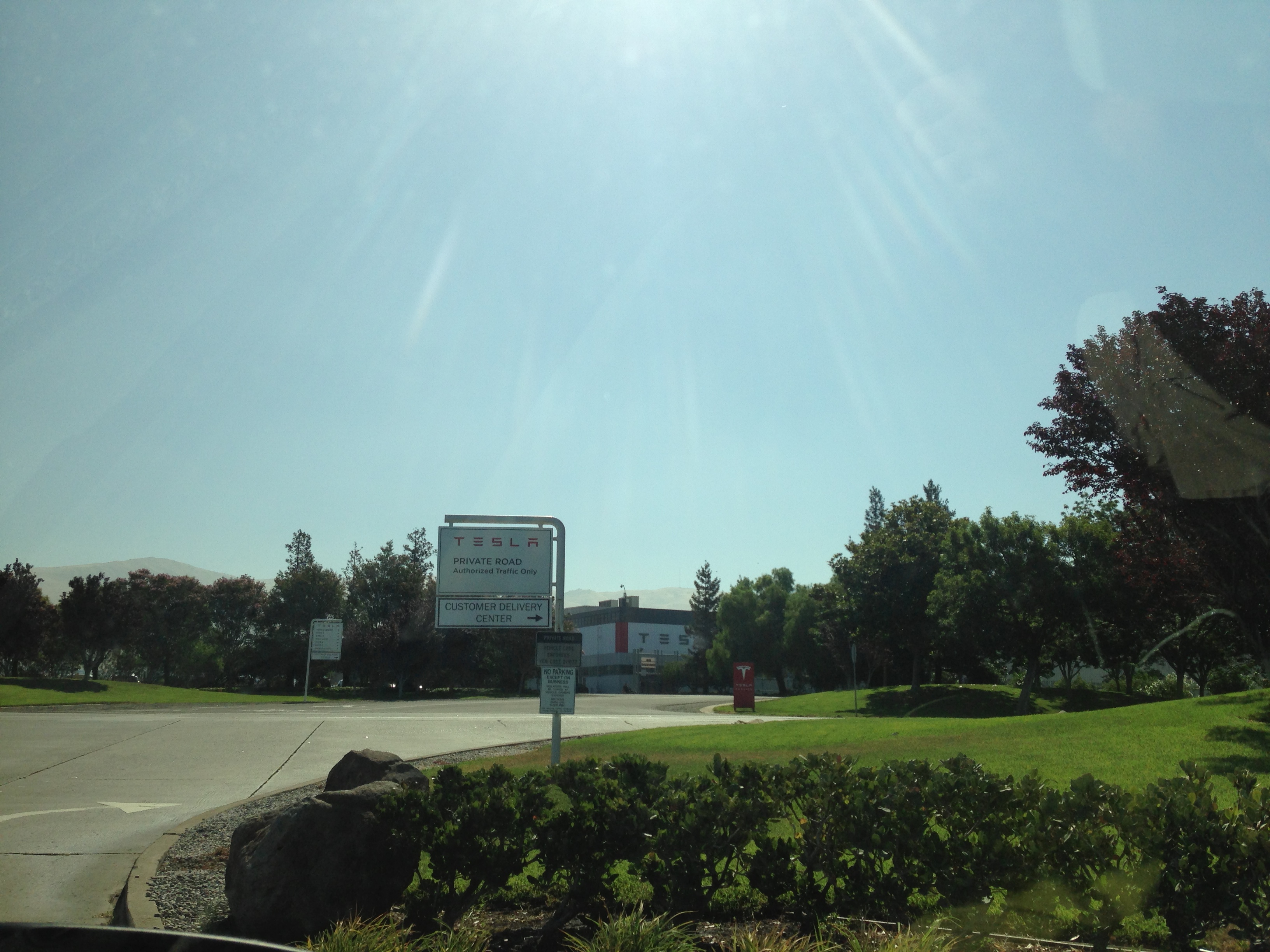 We had headed out a couple of days prior to TESLIVE to spend some time in California, relax a little – maybe! I had chosen Cupertino to stay in because it had the best rated hotel and it looked like a nice area, oh and it was only walking distance to Wholefoods Markets – priorities first!!  Cupertino… Hang on one second, that name sounds familiar – Apple HQ was just down the road! That was not planned or on my priority list but Michael was pretty excited.
On the Friday before the event, courtesy of Tesla Motors, we were treated to a bit of fun – they were kind enough to lend us Model S for the event – More on that next time. After a day of fun carving through canyons, we had to return to reality as Michael had to meet up with the other organisers to finalise the last details. Whilst he met with them, I decided to stay in the car to chat to the children back home, it was after all getting late for them back on the East coast, and we did have Model S. Would I rather sit in the hotel or in the rather nice S? It was an easy decision.
After the meeting finished we headed back to Cupertino, stopped at Wholefoods, picked up some dinner and headed back to the hotel to finish up our preparations for Saturday's main event and go over that speech, just one more time. Michael was getting a little nervous as he was part of the opening speeches. Thankfully though he slept Friday night, I'd expected lots of tossing and turning and therefore a restless night for me.
Still being on East Coast time we were up very early (4am) on the Saturday morning, pacing around, waiting until we needed to leave. Would 7am ever get here? We made a quick pit stop at Wholefoods for a very light breakfast – a banana – then headed over to the Crowne Plaza at Milpitas where TESLIVE was to take place. The best part of Saturday – I got to drive Michael to TESLIVE in Model S, definitely a most amazing car.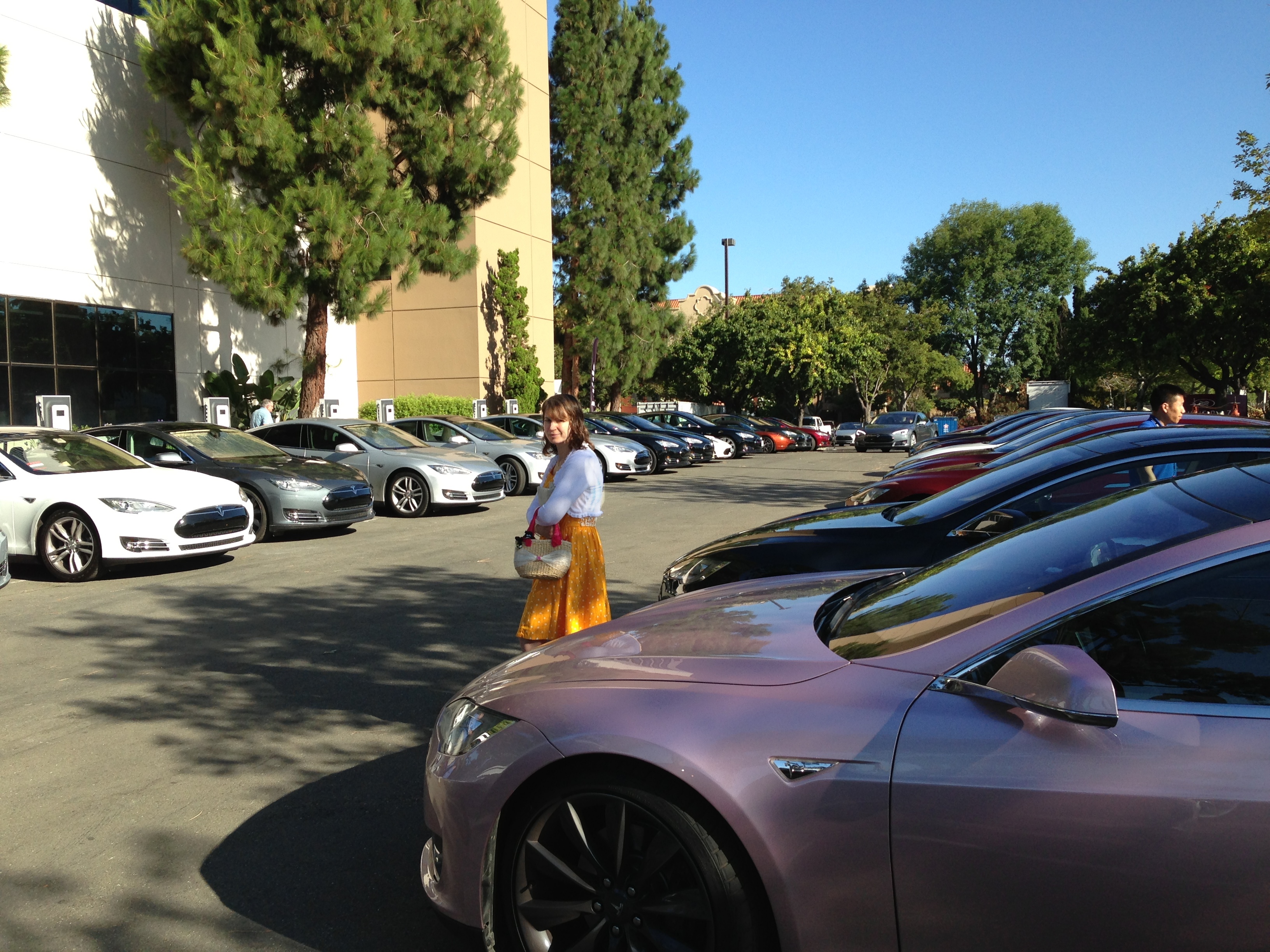 At 7:30am we pulled up outside the hotel and we were greeted by a sea of Roadsters and Model S as far as the eye could see. Many were getting in a charge from the blnk EVSE's they had set up specifically for the event. Very nice.
After we had parked the car, we headed inside to find the other organisers of TESLIVE. After hearing their names mentioned many times over the last few months I was finally going to get to meet them. I first met Bonnie, Renee, Eric and Paige. A bit later I met Daniel and Doug, who make up the trio along with Michael that is Tesla Motors Club.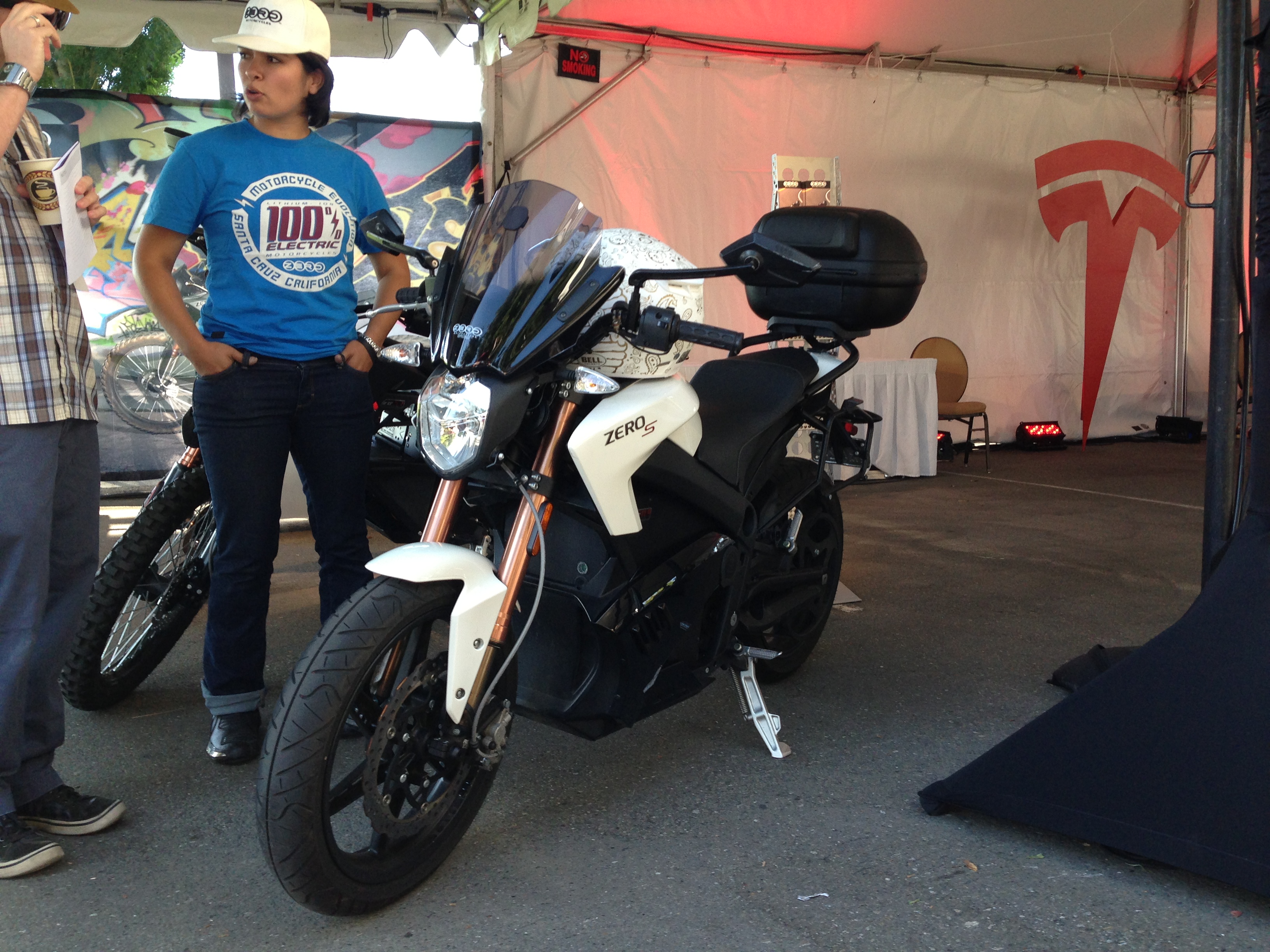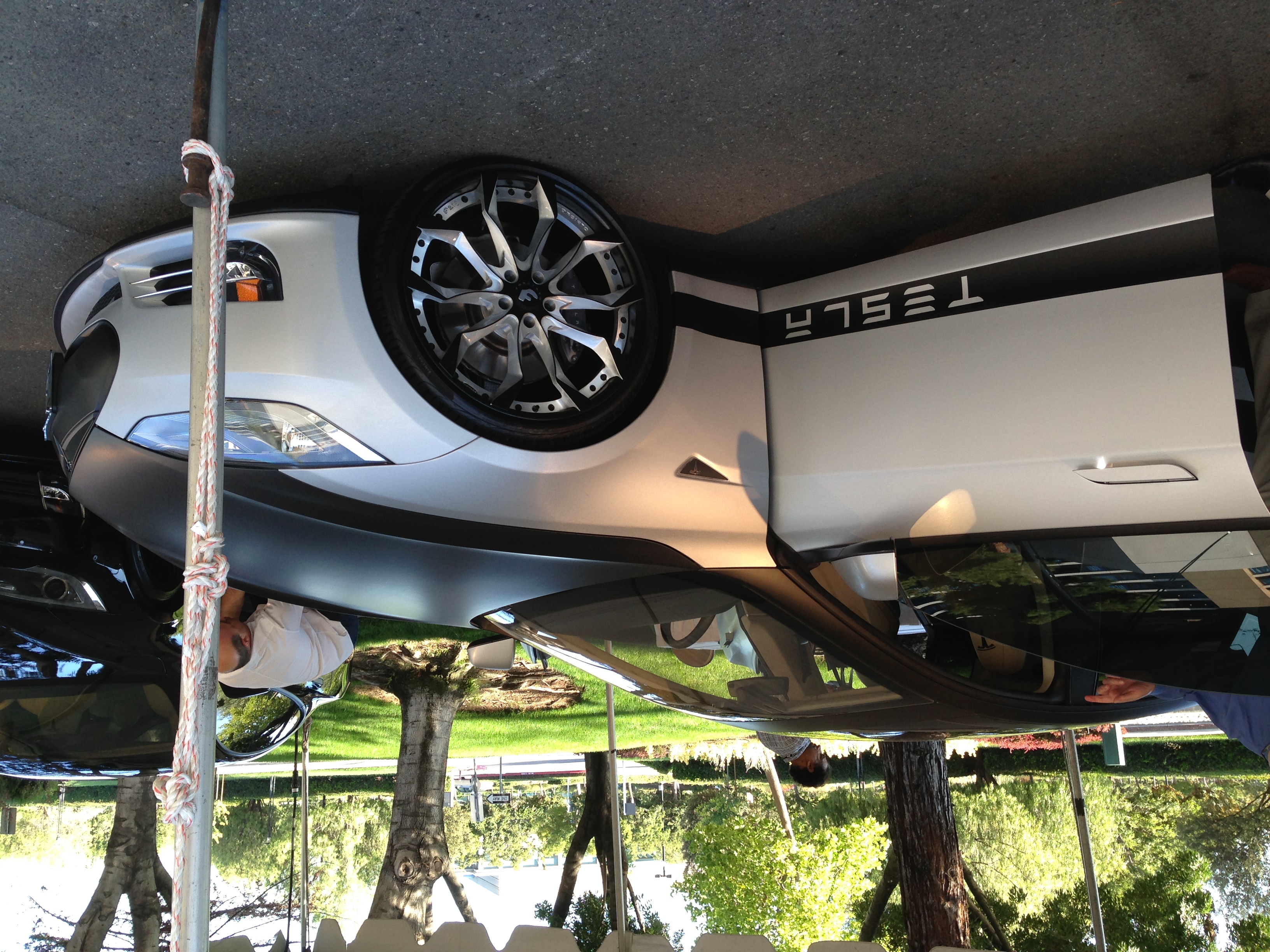 We chatted for a bit and tried not to watch the clock, it would be 9am soon enough and the start of TESLIVE. Michael had butterflies – I could hear them! To take his mind off the upcoming speech we wondered outside to see what the sponsors for the event had on offer. One of the sponsors had a rather interesting looking Model S parked up. The body work looked like brushed aluminium, not quite to my liking but still interesting. We spent some time checking the car out and then a quick look at the time revealed it was 8:50am, time for us to go and take our seats in the main room. We had front row seats… That must be because I was with Michael, he is a celebrity after all (in his head)!! The room filled and Michael looked around nervously as person after person (about 350) came in and took their seats. The room filled very quickly and it had suddenly become very real.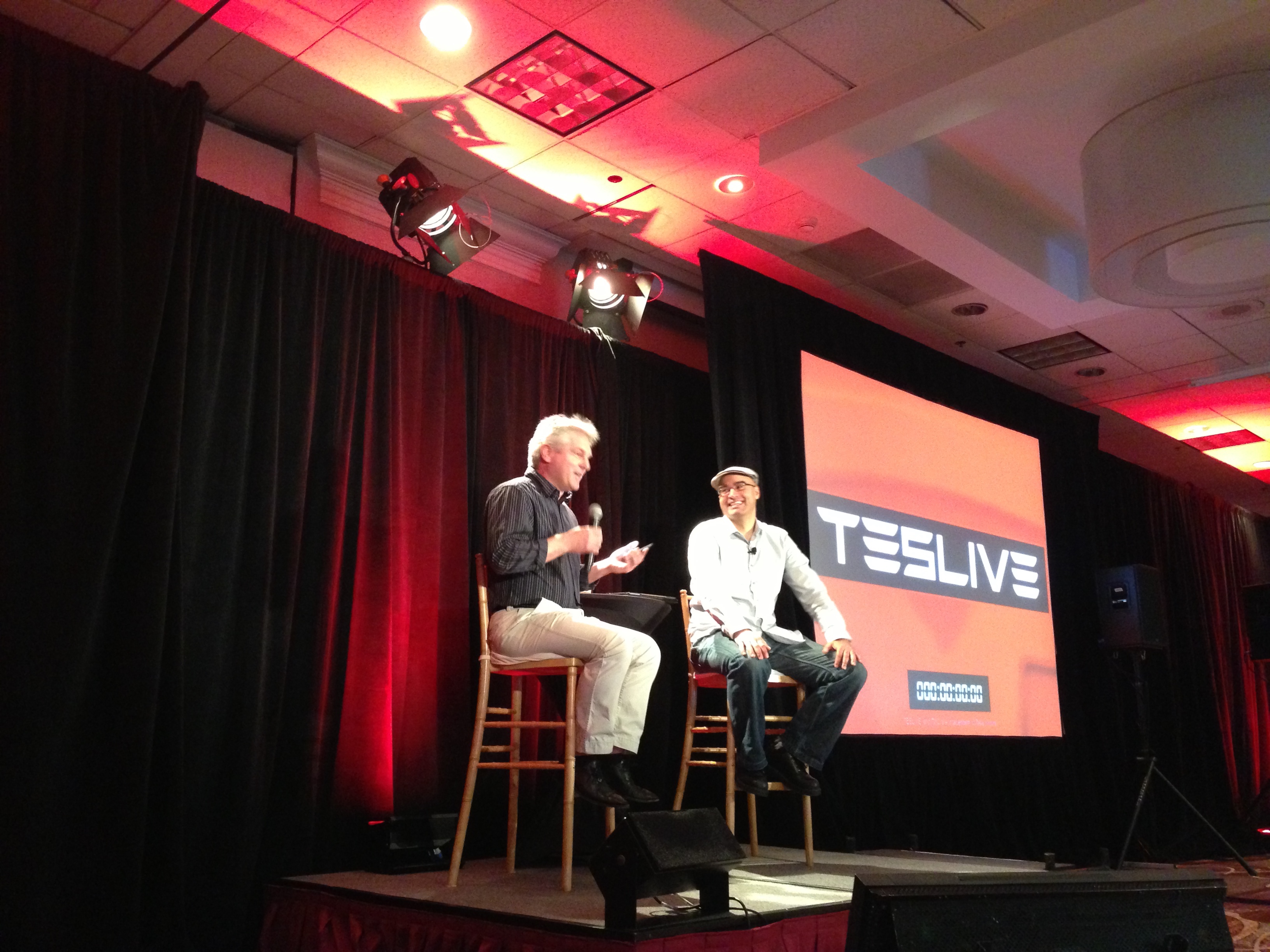 9am – Renee took the microphone first to welcome everyone and also went over the finer details of the days events. Next up was Doug and Michael, they each took a seat on the podium and it all began. Doug went first and it seemed like he wasn't nervous at all. Michael still looked a little nervous but as soon as he spoke it was the Michael I know and love and he was off. He and Doug went back and forth with each other so easily the audience loved it. Then it was time for Michael's speech and he delivered it like a pro. The speech went down well with the audience, there was lots of laughing and clapping. Thank goodness we didn't have to resort to the sign language from me to fill in the bits Michael felt he was bound to forget!
TESLIVE had begun…
The rest of the morning was a whir of meeting people, going to breakout sessions and trying to find a quiet moment to sit – there wasn't much hope of that.
A quick lunch – and sit down for a few minutes.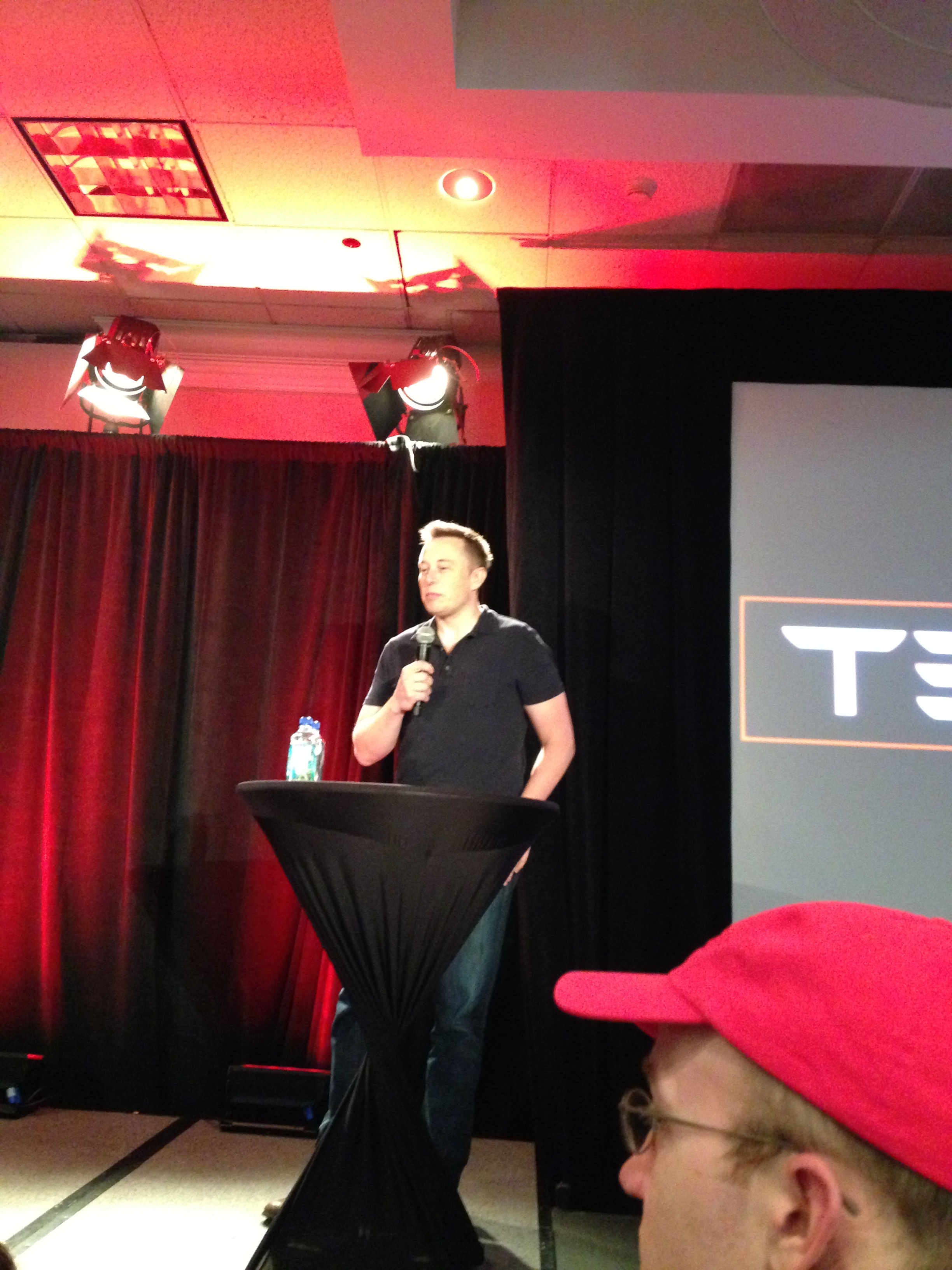 The afternoon started off with for many, the highlight of the day, a Q&A with Elon Musk, CEO of Tesla Motors. I sat and listened to what Elon had to say and to the questions people had, some good, some a little bizarre.
The one interesting part of Elon's Q&A was the assurance that Tesla would be doing "Something for The Roadster owners next year." That'll be worth waiting for, I hope, as they are beginning to feel forgotten about. They must, and should be remembered for helping to get Tesla Motors up and running.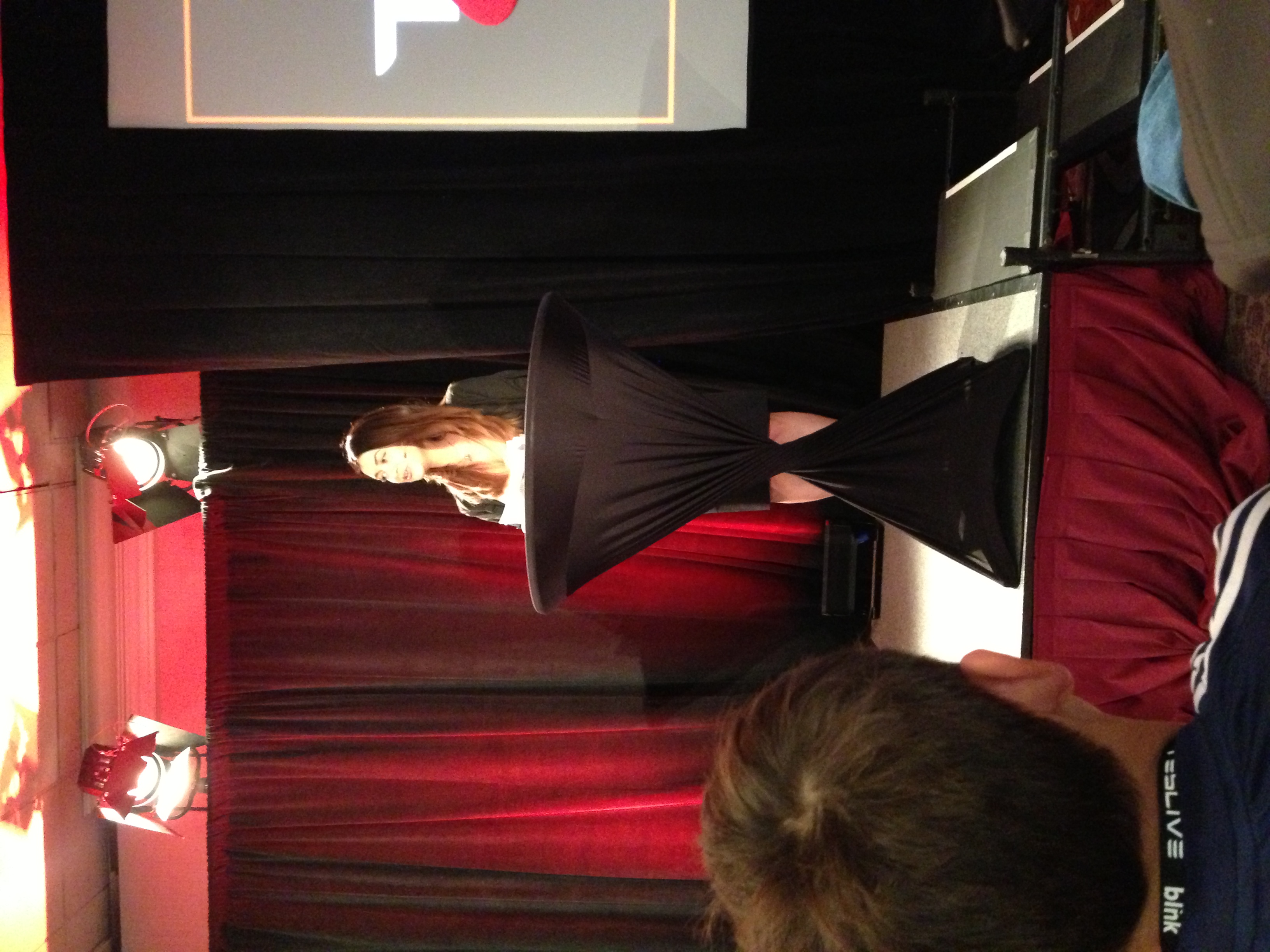 Leilani Münter, the female racing driver, gave a good speech. She shares a lot of the same ideals as me, just not the part about racing cars though.
It had been a good day and a long day and we'd met so many people who all shared our love of EV's and in particular Tesla. However the day was not yet finished as there was one more breakout session which I had to attend as Michael was the moderator. This was much more informal than the opening speeches and therefore came with much less worry. It was an interesting session with people talking about modifications to their Tesla's.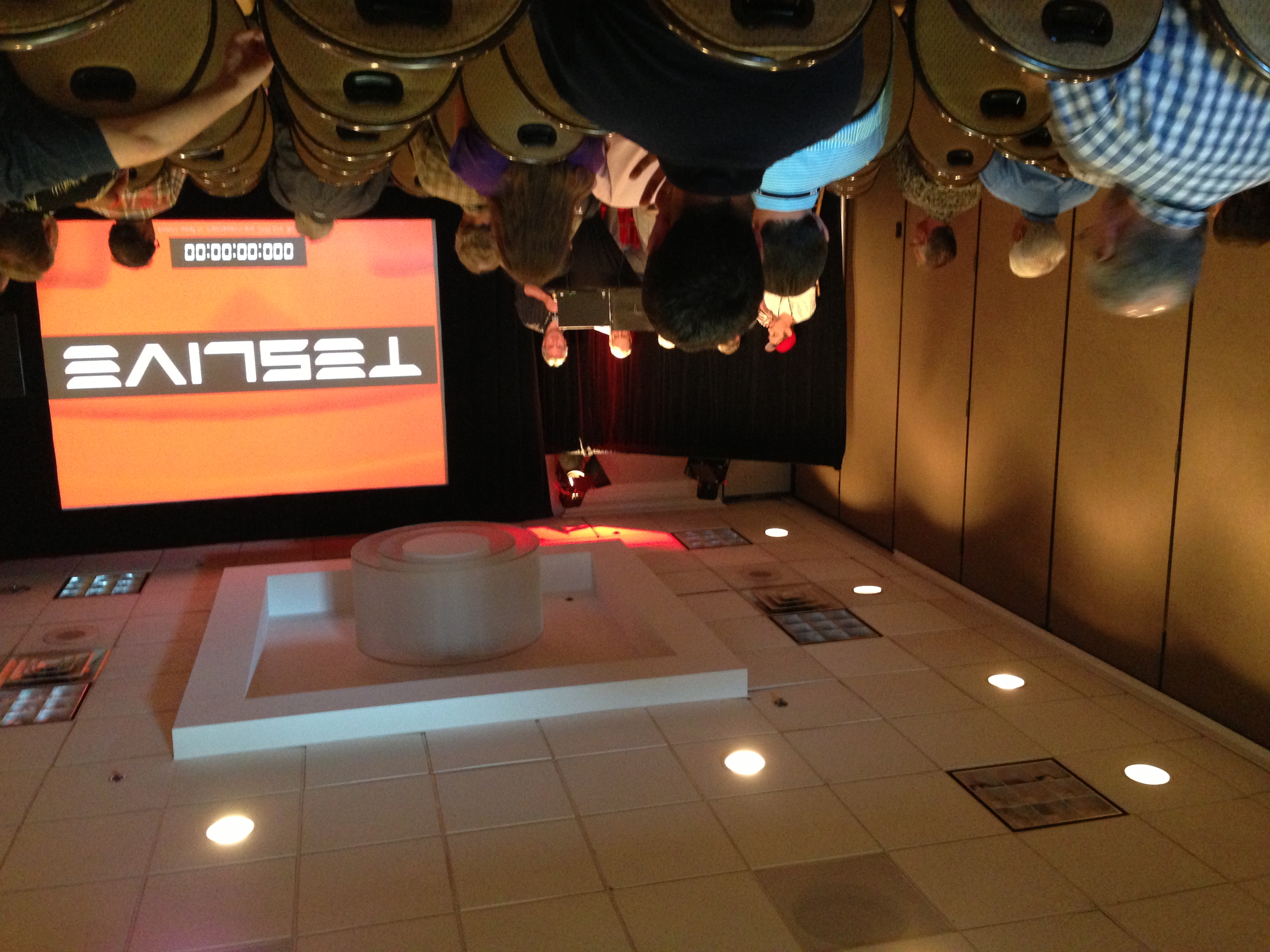 A most informative session and all went well. This marked the end of the days events at the hotel but still the day was not over as now it was time for the start of the evenings event at the Tesla factory.
It was close to leaving time for the party but there had been talk of a group photo to be taken somewhere. As we headed out looking for where they were going to take the group photo, we bumped into Chelsea Sexton so stopped for a chat, it was nice to finally put a face to the name.
Everyone gathered in the hotel foyer, just before they all left for the party, for the group TESLIVE 2013 photo.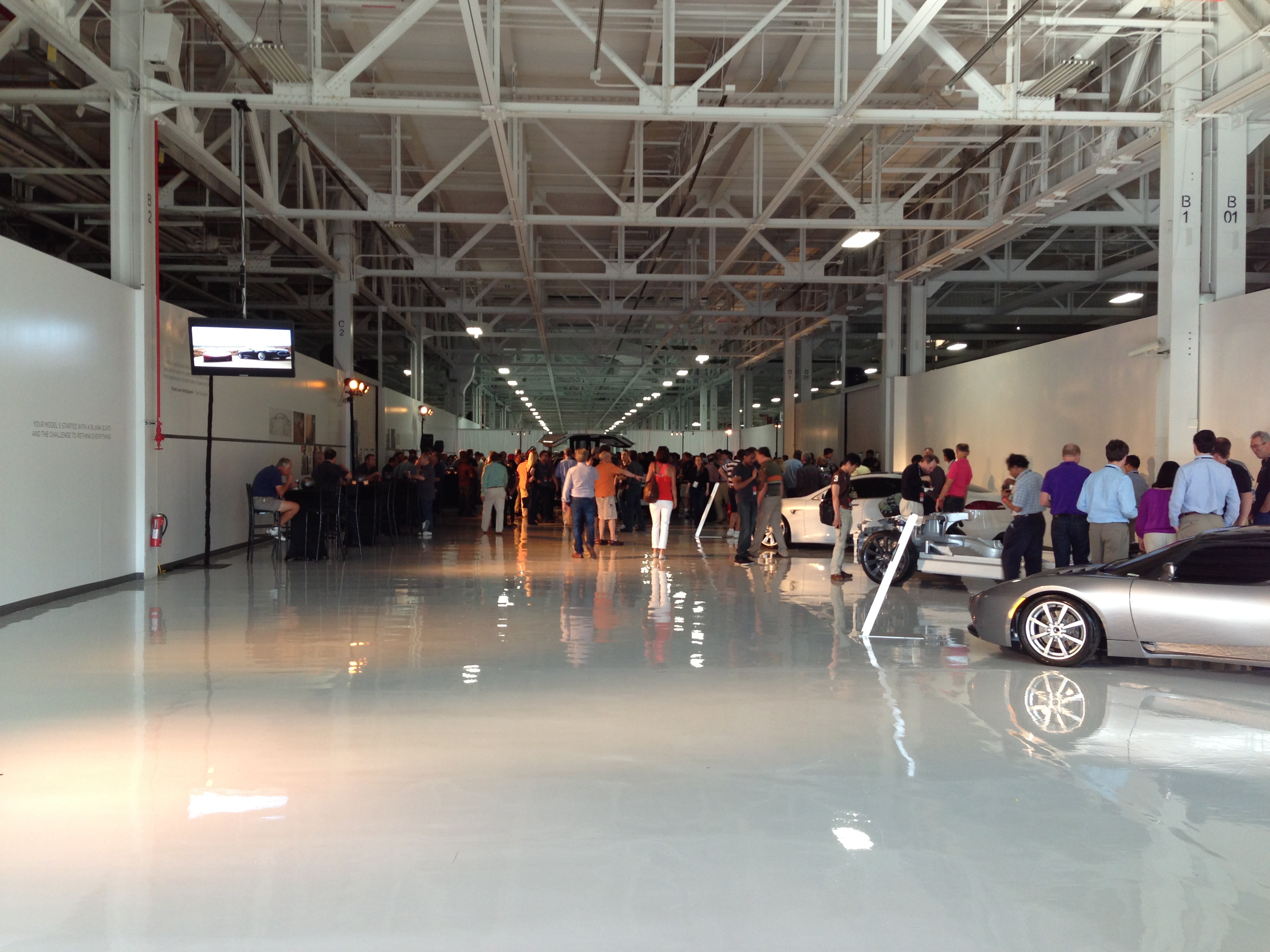 Then it was off to the Tesla Fremont factory for the after party. It was also our last drive with Model S – Michael made the most of it. We didn't really want to give it up so we took our time getting there. The party was in full swing when we arrived, with more people to meet and chat with.
It was nice to meet up with Rob, another ActveE driver and Model S owner. Funnily enough we saw only one ActiveE the whole time we'd been there, But S's, they are everywhere you go in Silicon Valley, I mean, everywhere!
At 9pm the party was ending, time to go, well almost as we had one last person to stop and say hello to – George B, we certainly couldn't leave until we had chatted with George.
As we headed outside, it was dark and there was no Model S to look forward to, just a little old Toyota Yaris, it got us back to the hotel but if wasn't any fun… Oh well the dream had to end I guess… Or maybe it doesn't…
We had so much to talk about, the day had been very interesting and I certainly wouldn't have wanted to miss it. I love being by Michael's side, as his accessory (long story) and his wife, hearing him talk, this is definitely his true passion.
The following day was a beautiful California Sunday morning. We decided to head back over to the TESLIVE venue as there was a rather large group heading out a for the drive event in their Roadsters and S's. Unfortunately, we wouldn't be joining them but we saw them off, taking some pictures and video as they left.
It was nice to see everyone from the day before and say goodbye till next year. I'm sure we were a little jealous that they were in their Tesla's gong out for a lovely Sunday morning drive, but our Roadster was unfortunately on the wrong coast!!
In conclusion it's been a most successful event and we'll see you all next year.
End Note: 'Each of us as individuals can only do so much but, as a whole we can achieve so much more.' This was very evident from the people who were at TESLIVE.