Saturday 3rd May 2014
Okay, seriously WHAT has just happened? Why is there a BMW i3 in my garage? I didn't want one, I disliked it even. So what on earth happened? Why are we the first in New Jersey to take delivery of an i3?
Let's begin at the very beginning – always a very good place to start.
After we bought the mid-life-crisis Tesla Roadster, we got a taste for EVs – I got a taste for EVs and, at a MINI E get-together at Tom's restaurant, where BMW exec and all round good guy Hugo VanGeem suggested that he might have a 'spare MINI E' that we could have, I became a fully paid up EV'er.
After the MINI E – that I would have kept forever if BMW would have let me – we had the ActiveE but, it seemed like that was going to be the end of the EV road with BMW. The i3? Hmm, no, never, definitely not. The Tesla Model S is still on my horizon and while I am getting closer, I am just not quite there yet.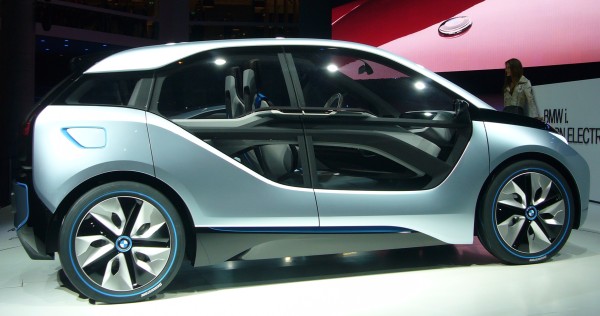 First impressions of the i3 were not favourable – from the first pictures we got to see of the i3 – with too much glass in the doors, seriously BMW, what were you thinking? I felt like I would be in a goldfish bowl with the world able to see up my skirt! The next viewing, which was actually in person, still left us unimpressed. That was the i3 event at BMW NA. Already turned off to the car by the person who spoke on the batteries and, the person who spoke of what the i3 had or rather hadn't got, we had already decided we would not be getting an i3. The test drive a bit later did little to sway us. The interior was 'blah' and the wooden accents and general brown-ness were very unimpressive. After all, we have as much wood in our cars as we have carbon fibre on our dining room table! Let's not forget to mention the bouncy suspension and the ridiculous placement of the on/off switch and controller to go forwards or backwards. We left that event certain that we would never take possession of an i3. 
To i3 or not to i3…
In time, it soon became all too apparent that we were going to have to give up the ActiveE, our two year run was almost at an end. However, if we put in an order for the i3 we would get to keep the ActiveE for a bit longer, extending the lease until the i3 arrived. Did we need to put down a deposit? No. Did we need to sign an agreement? No. Right, jolly good, lets put in an order for the i3, there's no commitment, we don't have to take delivery and the best part is we get to keep the ActiveE.
The truth – We had no intention of taking delivery of the i3 ever. We didn't want one, we didn't like it. The only reason to put in an order was to keep the ActiveE for longer. There, I've said it.
To keep the ActiveE lease alive, we went to the BMW i3 website and built an 'i3'. We didn't think too much about the choices we made, we pretty much ticked all the boxes – Metallic Silver, 20″ wheels, Tech Package, Parking Package, Harmon Kardon sound system, Heated Seats and DC Charging. We stuck with the Mega interior as this was grey and recycled and had no brown and no wood. It didn't matter really as we were never going to take possession. Car spec'd and sent to Manny Antunes to place the order. We extended the lease with BMW FS and continued to enjoy the ActiveE, thinking about our replacement to the ActiveE and knowing it wasn't going to be the i3.
As time went on, all the talk on Facebook was i3 this and i3 that. Still unimpressed we didn't bother joining in with the conversation. Talk turned to cost and it appeared that the i3 was going to be very expensive and at $800 a month, it was out of our reach – just as well we didn't want it then. Back to having fun with the ActiveE and trying to make 50,000 miles before we had to return it. Time moved on, still no i3's so we extended another month taking us to the 21st May.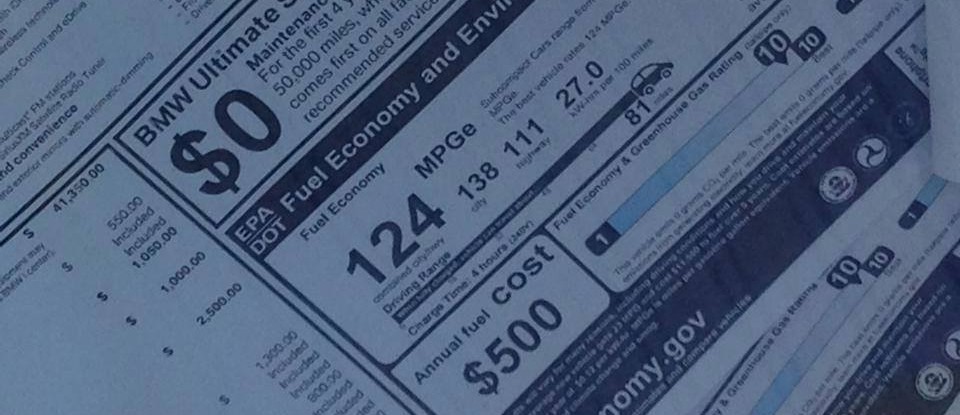 On Thursday the 1st May we were going to the final ActiveE meet up at Nauna's and I was checking Facebook to make sure there were no changes to time, when… Manny posted a picture of his first i3 arrival. Why did it look awfully like our spec? Why did it actually look good? Was it the shiny silver and 20″ wheels? Is that what it took to take a 'blah' i3 to a good looking i3? On no what was going on? Michael arrived home and I said, 'What would you say if I told you your i3 was here and on Facebook?' He said, 'What?' I showed him the picture and he said,'That looks very cool, but don't show me any more because I am very weak.' Oh no – I feel a disaster coming on.
We set off for Nauna's not knowing what we were going to say or do. We couldn't afford the i3 and still didn't want it, not really. An hour later and lots of talking and still no nearer an answer we arrived. As we stood chit chatting outside with the others, Manny arrived and told us that the '$800' wasn't a correct number and the numbers on the website were wrong and he could almost match the price of the ActiveE with very little down. Ugh – what do we do now? Do we want it? What about all the issues we had with it, did they still stand?
The next day more pictures of 'our' all electric i3 appeared on Facebook, the Mega interior transformed the car, it no longer looked 'blah'. Argh – decisions, decisions. Could we be turned to purchase a vehicle that we didn't want, said we would never have? Oh my goodness, the silver and the wheels and the interior really did change the look of the car. Pictured in the showroom it looked rather good. Argh, Ugh and all the rest…
We made a decision after lots of talking that we would go along to JMK BMW on Saturday and look at it in person but still no decision made.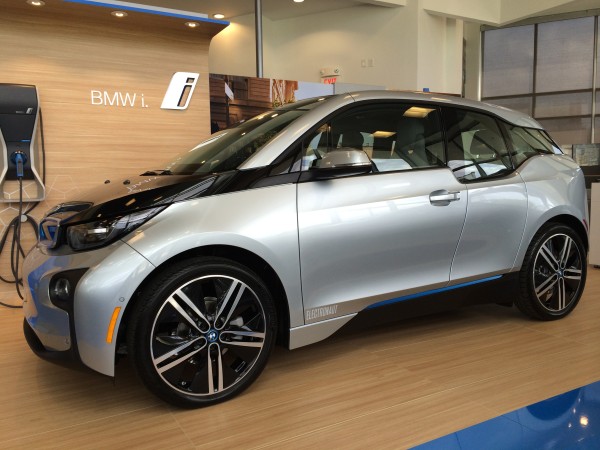 We arrived at JMK BMW and okay, we admit it, the i3 looked so much better, it actually looked like a car we might like to have. We looked inside, sat in the car – no, no, no this is all wrong. What is happening? We sat down with Manny to go over numbers and it started to look affordable. The monthly repayments are a lot closer to the ActiveE after all. Michael and I looked at each other and the eyes said it all, 'Are we really going to do this?'
Discussions needed to be had and we needed to leave to go to an Art show that my son had a picture displayed in, so we agreed to return around 4pm.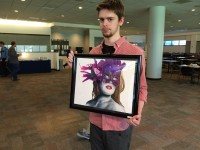 After the Art Show we headed to an EV event in Bridgewater with the Tesla Roadster, where we discussed the i3 with Chris who I thought was more excited than we were. As it happened he needed to charge before the next EV event (a busy Saturday) so we offered our garage but he declined, choosing to go to JMK BMW instead. I wonder why? Couldn't possibly be because there was an i3 sat in the showroom? Chris asked if we would bring the i3 (we hadn't said a definite yes yet!), to the next EV event in Summit. The world seemed to be sending us a message or at least egging us on.
We arrived back at JMK BMW, still unsure of what we were doing. While we waited for Manny, we looked over the car again and agreed it had been transformed. To each individual it is probable that any i3 colour combination looks better or worse, I think it is more like tuning an instrument to your personal taste, when you hit the right note, it is a symphony. We seemed to be looking at our symphony. Manny went through the this and that of the car with us and then it was down to numbers and paying. I guess that was a yes then!
By 5pm we had signed on the dotted line, handed over some money and been given the keys. So that really was a yes then. Still WHAT!!

Sat in the drivers seat my first thought was, 'What are we doing?' Second thought, 'Have we seriously just taken possession of an i3?' Third thought, 'What, what and what!' I turned on the car and yes the start/stop and the forwards/backwards device are still located in a really daft place and that won't change but, right now that seems to be the worst thing about the car. Into D for forwards, I gently pressed the accelerator and we moved off – no creep, yeah!
We headed out of JMK BMW and onto Summit to see Chris. The i3 rides so much better with the 20″ wheels, a lot less bouncy and no wibble. Okay, it is rather nice and the best thing is, it has the ActiveE regen, that has to be worth every penny. It pulls up to the white line perfectly. The i3 is so quiet, it seems like we are all on our own.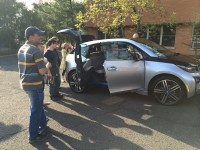 As we pulled into the EV event in Summit, we were greeted with a round of applause and we, of course, gave the royal wave. (We are British and here on official Royal business after all – more on that another time.)
We parked up and were surrounded before we could even get out of the car, everyone loved it. So many pictures were taken and so many questions, many of which I couldn't answer as I had only had the car for 20 minutes! It's rather exciting to draw so much attention.
Just so everyone is aware of the full, whole and honest truth – We never had any intention of taking on an i3, we didn't like it, didn't want it, we only put in an order to keep the ActiveE, but I guess with a few changes – even the most stubborn decisions can be reversed so, there is no reason why you and I can't do the same for the rest of the folk out there who haven't yet seen the EV light.