Smart
2015 Smart Electric Drive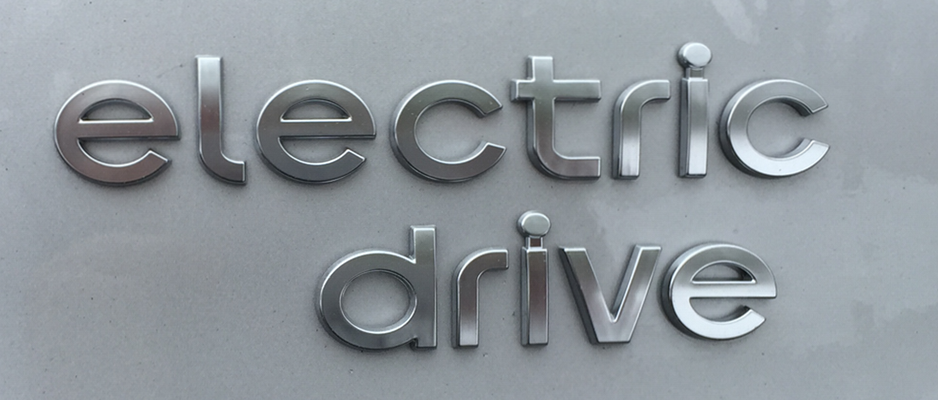 Saturday 31st January 2015
We made the Smart choice!
Excuse me my trusty sidekick, what do you think you are doing writing that? Trying to be clever? I don't remember giving you permission to write in my blog! Hmm, he's always looking for a way in!
Anyway after lots of deliberation and lots of discussion and debate over whether we should just extend the lease for a month or two on the i-MiEV, we have found ourselves leasing a 2015 Smart Electric Drive, making it EV number 7!
We weren't originally going to go with this choice – ignore what my sidekick may say! He thinks this was always the choice. Hmm, no it wasn't.
We almost went with the VW e-Golf, but after looking again at the price, it just didn't fit our needs at the moment. Then we went back and forth on the i-MiEV, but were put off by the total lack of interest from our local Mitsubishi dealer, no interest whatsoever in trying to keep us as a customer. They wanted to charge us $750 – $1,000 to have an i-MiEV bought to their garage – Umm, I don't think so. We could have extended the lease but also saw a lack of interest from the finance company in sending us the paperwork – it's been two weeks and still nothing from them. I'm disappointed with Mitsubishi. I think the two people that worked there when we leased the i-MiEV two years ago, are no longer working there. Which is a shame as they were really into electric cars and very supportive.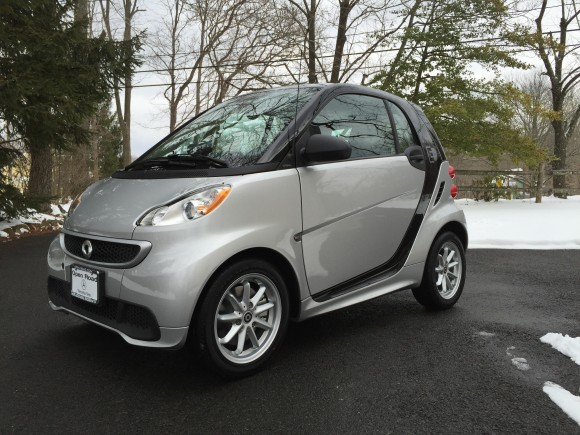 Third on the list was the Smart Electric Drive. Well, this ended up turning into a real fact finding mission after one dealer gave us some duff information, which we thought odd, so took it upon ourselves to find out more. Turns out you just need to contact Smart Customer Service, who know what they are talking about. The dealer told us that YOU have to have the Battery Assurance Plus warranty (supposedly this covers the battery for 10 years), and that it is $80 per month, but on their website it says that the battery is covered under the 4 year warranty. Well we would only be taking out a 3 year lease so no need for the Battery Assurance Plus right? But, after a call with Customer Service it turns out that you really do need to pay the $80 per month and if you do that they take $5,010 off the cost of the purchase price. Well, now that does change things.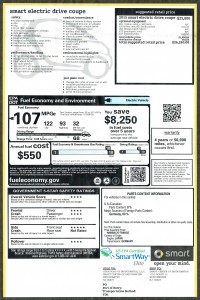 With our new found knowledge, it was back to the dealer, who originally was only discounting the car by $3,000… so they would have been pocketing the other $2,000 – Tut Tut!! They set off to see what they could do and came back with a $139/month deal including the battery assurance plus warranty. But still, with a $2,400 down payment. We went to a different dealer, Open Road Mercedes, Smart Bridgewater and they seemed a lot more knowledgeable on it all. They discounted the MSRP by the $5,010 and offered us a deal at $125 per month including the battery assurance plus warranty. But they too wanted $2,400 as a down payment. Hmm…. We decided to call into the dealer as we were going to be out that way on other EV business. The sales guy – a very nice chappy, called Jason, was very open and honest about needing to sell three more cars by the end of the month (silly US dealers, getting themselves into this whole got to sell x number of cars each month to get their bonuses – they must drive themselves crazy!!!). Ah, but now the ball is a little more in our court – we said $2,400 was too high as well, it was. How about $850 like the i-MiEV had been? Jason, keen to sell us the car, said he would talk to his manager. He came back with $1,450, but, umm, no. How about $850? We needed to leave for our EV meeting and, we had to have a think about it, $1,450 was better but not in budget. To stay within budget, we really had to keep our downpayment low. We got a call during our meeting to ask us if we could go back and talk numbers. After our meeting we headed back over to see what he had to say. Good news, they accepted our $850 down payment all inclusive on the proviso that we took the car that day. Okay, that worked, $850 down, $125/month, 10,000 miles per year, for 36 months. As the finance guy was busy we agreed to return that day at 4:30pm to finalise the paperwork. At 4pm we received a call asking if we could come in later, at 6:30pm instead, sidekick said yes, but I said no! (and I am in charge after all). That's too late and, Friday morning is my best offer! I knew I was pushing it but I was not going out at 6:30pm in the cold and dark when there was snow forecast. I was quite surprised when he relented and said okay, Friday at 11am. I think that he was under a lot of pressure to get the car sold and make sure we didn't change our mind and go elsewhere. He took a risk on us turning up the next day. We knew we were going to be there but I guess he didn't.
At 10am on Friday morning he called to check we were still okay for 11am, I hoped he hadn't had a sleepless night after convincing his boss that we would be back. With a good deal agreed, why would we go elsewhere?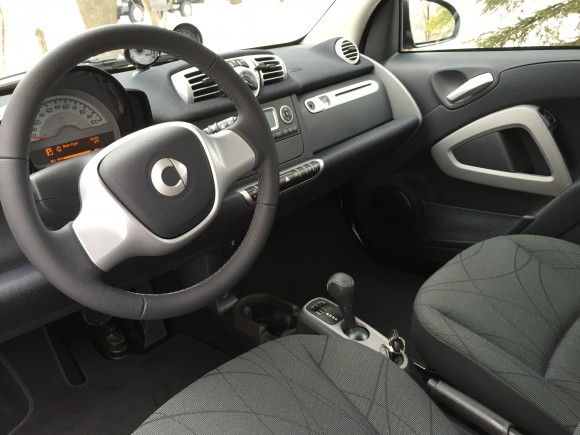 Oh, I almost forgot – on the journey to the dealer my sidekick decided to tell me that the other dealer had found the car colour I actually wanted, silver with red Tridion cell, seriously, you are telling me now? Ugh. But then he followed that with the news that it had a tan interior – oh my goodness, are you serious? I certainly don't want that now! Who on earth comes up with that colour combination? Are they oblivious to colour in general? That would not be allowed in Europe. That is hideous I tell you, hideous.
We arrived at the Smart dealer promptly at 11:02am, just to make Jason worry a little! No, we just got held up in traffic, really! Jason looked super pleased to see us as we walked into the showroom and, he had a gift for us; a luggage cover, how lovely, no seriously, I think that it's really kind of him and I like that we have one as we can now store things in the boot and no one will see them, so thank you very much Jason, that was a really nice gesture.
Next, the boring part of the paperwork, it didn't actually take that long, we were surprised. The finance guy apologised ahead of time in case he made any mistakes as, the finance paperwork is far more complicated with an electric car and even more so with Smart and the battery warranty. But, he said that if he finds any mistakes later he'll come to us to have us resign. Good to know. Anyway we were out of the dealer by noon and everyone was happy.
My sidekick and son drove the Smart Electric Drive home, with me leading the way in the i-MiEV. In the rearview mirror the Smart Electric Drive looked small, well it is isn't it? But kind of groovy. Oh, and we ended up with a silver one with black Tridion cell, with a black interior. Yes, yes, that's a garage full of silver! But silver always looks good.
Once again, I realized that we picked up a new car in the winter when the roads are wet so the car is dirty by the time we get home. Car wash number 1 already!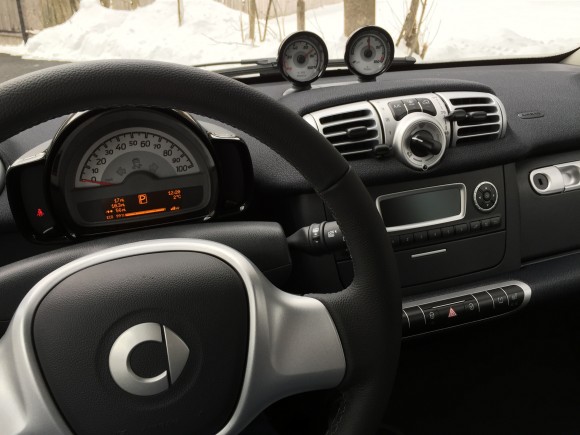 I got to drive the Smart Electric Drive to the supermarket that afternoon and, I will admit to being a little skeptical at first. I have never driven one and really had no idea what to expect. However, I was pleasantly surprised by its firm drive and the tightness of the steering wheel, especially after the loosey-goosey feel of the i-MiEV. It drives well, however, it is missing the strong regen that we rather like. It does have regen on the brake so rather like the i-MiEV in that department. BUT, we do have something we very much like – a percentage state of charge reading for the battery – Yeah! Smart presents the State of Charge on its own dedicated gauge right in the middle of the dashboard for all to see! I also like that I get to see all the information I need in front of me, time, temperature, miles to empty, miles driven, how well I am driving and more – all at once with no toggling through endless menus to get at the basic necessities. I think I may like the Smart Electric Drive but will withhold that judgement until I have driven it some more. My son thinks it's great, he hasn't driven it yet, but can't wait to try it out.
Poor 'MiEV'. I felt sorry for it, knowing that it's going back. It has served us well over the last two years and never given us any issues at all. I do believe I will miss it. But I also am annoyed at Mitsubishi for being so blah about trying to get us into a new i-MiEV. Well it is their loss.
We dropped off the i-MiEV today and we were actually quite upset to see it go. It has been a faithful friend for two years – and you can't complain about that!