ActiveE
7,777.7 Green Fairs Here We Come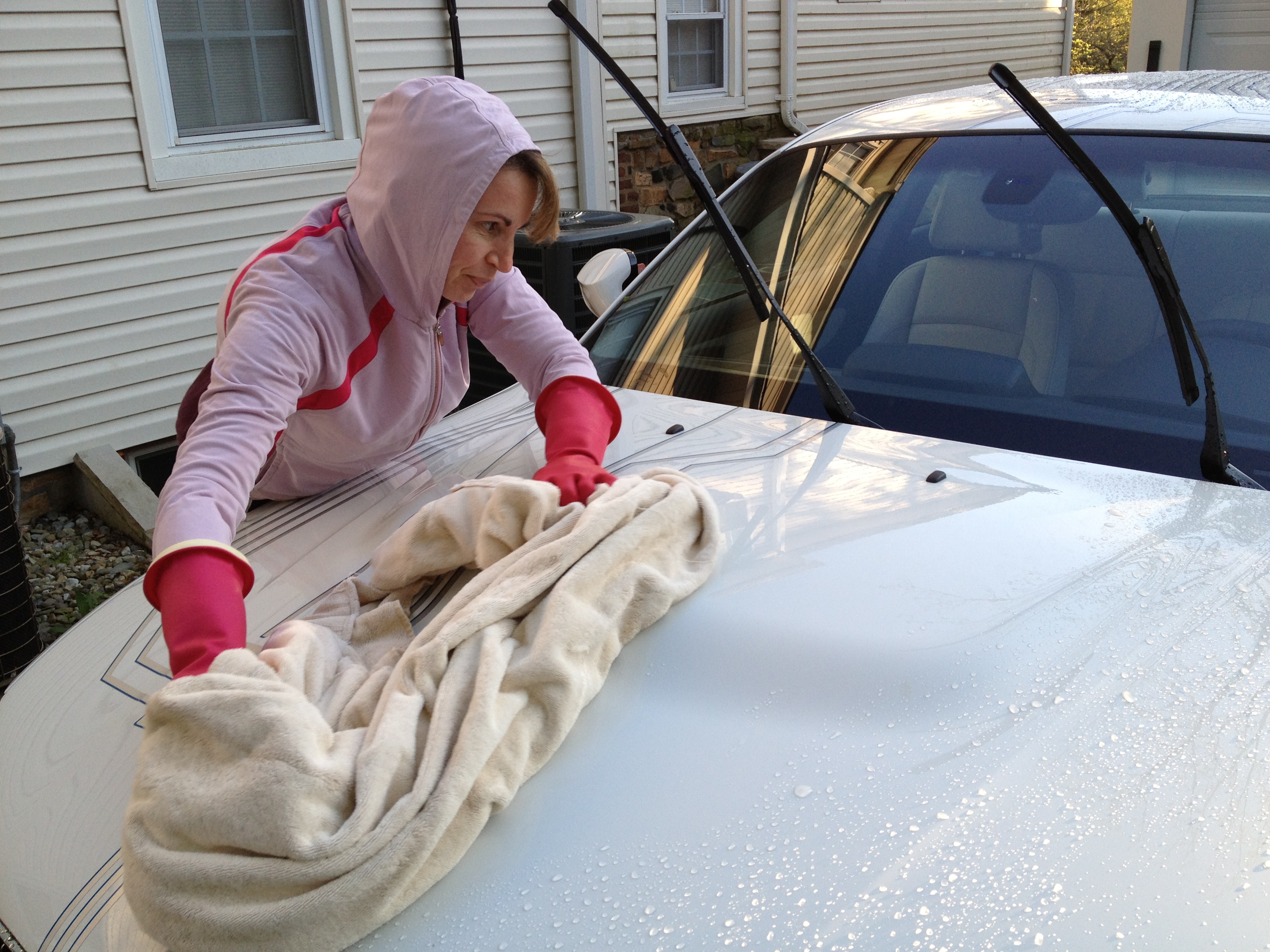 Thursday 3rd May 2012 – 14 weeks & 5 days & we're at 7,777.7 miles & wash 29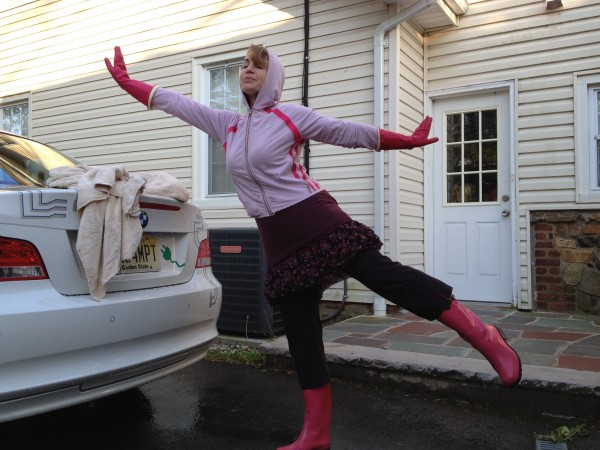 It's been busy in the last couple of weeks around Earth Day. We've taken our cars, the ActiveE and Tesla Roadster to Hoboken, Millburn and Madison Green Fairs. We've also been to Rutgers Day and Raritan Valley Community College. We've still to go to Warren Green Fair and Watchung Hills High School.
The Tesla is always the main attraction, but the ActiveE also draws people in, I think it's the graphics and the bump in the bonnet, people aren't sure what it is. When they hear it's 100% electric they ask, "Where can I buy one?" We could have sold a lot of ActiveE's by now. So many people are disappointed that BMW are not making more of them. We are hearing that people like the BMW 1 and would love to see it as a full production electric car.
---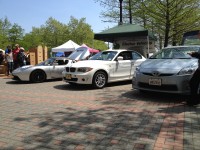 Saturday 21st April – Hoboken – This was a great day out, right on the pier overlooking the water and the Manhattan skyline. We talked all day about electric cars, charging stations, batteries and everything else in between. People are really getting that vehicle transportation needs to change, especially the teenagers/young 20's – Gen-Y. We had some students from the local university stop by and they all wanted an Electric Car, "Why wouldn't I?" said one. They just need them to be cheaper. We also met the Mayor who is looking to put in charging stations in Hoboken, she'd also like an electric car.
---

Sunday 22nd April – Millburn – Another great day despite the weather, yes it rained all day but being British we didn't mind being outside with the cars, talking about them to the brave souls who had ventured out. Here we met some local high school students who were there to talk about their schools Anti Idling program. They loved the electric cars, and all want one, they too get that things need to change and that electric cars are the future of transportation.  
They are saving their pennies so they can buy an electric car. They were very passionate about Anti Idling and are trying to get the word out in their township about how bad it is to idle your petrol/diesel car. For all those that didn't know, it is illegal to idle your vehicle for more than three minutes in New Jersey, even less in New York… another good reason to get an electric car… it doesn't idle – no chance of getting a ticket!
---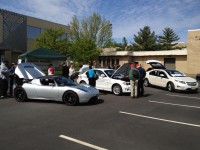 Saturday 28th April – Rutgers Day – A change from going along to Green Fairs was Rutgers Day. At Green Fairs everyone is already "green" minded but at Rutgers Day you never know who you are going to meet. We are part of the CAIT (Centre for Advanced Infrastructure and Transportation) building's Alternative Fuel Vehicle Display. We were joined by 2 Volts, a Natural Gas powered Honda Civic and our friend Ian in his Black Tesla – A car so different to Michael's Silver Tesla that the crowds all came back to ask him all the questions too.

We love taking the cars to Rutgers Day as we get to meet all sorts of people, from those who are already thinking about Electric Cars to those that never knew they even existed. We also get to meet the students who are thinking that Electric Car design is their career path; all very exciting.
Always amusing is that I spend a lot of the day telling children to stop swinging on the Tesla's door mirrors, I don't know what draws them to them and really don't get why they think it's okay. Would they do that to their parents cars? I don't think so.
---
Monday 30th April – Raritan Valley Community College – Michael did a presentation for the students on electric cars with a question and answer session followed by a tour of the cars. We showed them how easy it is to plug them in and charge them right there at Raritan Valleys' two new charging stations. They were very impressed with them and lots of photos were taken. There were lots of surprised faces when they saw the BMW ActiveE and realised that electric cars can look like "normal" cars! Their words not mine, because Electric cars are the new normal… right?
---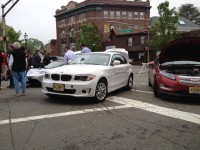 Thursday 3rd May – Madison Green Fair – This is a small Green Fair but has a good turnout as Madison has a good community that supports the activities of the township. As soon as we arrived in the cars they were swamped, it's like the Zoo keeper arriving with dinner for the Lions, the Lions are circling around waiting then they see the Zoo keeper arrive with dinner and they pounce.  

We were straight into the questions and didn't stop until the local high school jazz band started up, then there wasn't much talking to be had as everyone stopped to listen; they were really good too. After they had finished we had a few more conversations then it was time to head home. As this is a late afternoon/evening event, when the sun goes down so the people head home.
Driving home afterwards through The Great Swamp I catch myself counting the bugs again… this is ridiculous! Note to self – put music on before setting off so I can't hear them. See 4,444.4 for more on that.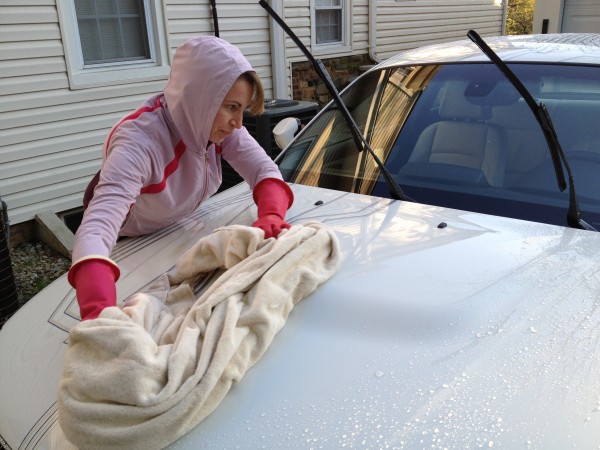 Car wash 30.