Smart
Five Things You Might Not Know About the 2015 Smart Electric Drive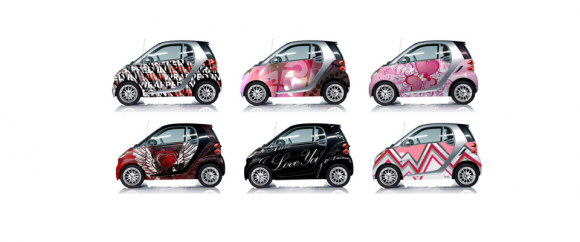 Saturday 7th February 2015
We have had our new 2015 Smart Electric Drive for a week now and have already found a few things that, even one of the dealers swore wasn't available!
Here are Five Six things you may not know about the Smart ED.
1. Pre-conditioning is built in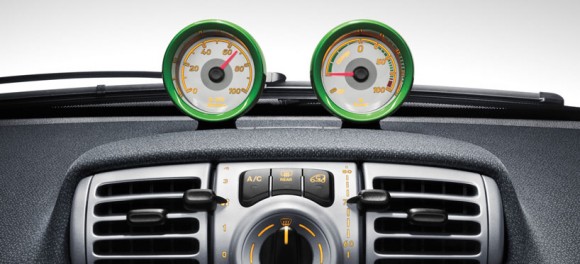 I so like the fact that I can pre-condition my EV's without idling. In the Smart Electric Drive it doesn't take long to warm up the car as it's well insulated and small, so it's toasty warm in just a few minutes. We've actually found that the car gets so warm that we are driving around with the heater set on the lowest level. To pre-condition, you can set the departure time on the dash display or…
2. It has a Mobile Web App (that works on the desktop too)
… on the App! I can also see my state of charge, miles to empty, approximately how long it will take to charge, whether the climate control is on or off. There is also an eco display that lets me know how I have been driving – good to see how the child has been driving! Plus, a route planner that factors in topological data to make sure I know how far I can go with my current range.
3. The front passenger seat folds flat
The front passenger seat can be folded down flat therefore increasing your boot space for your extra luggage or purchases. Not much good if you have a passenger though! If you do have a passenger then I am sure they would be more than happy to hold those extra purchases for you. We were able to get one week of shopping in the boot – just. It was touch and go with the toilet rolls though!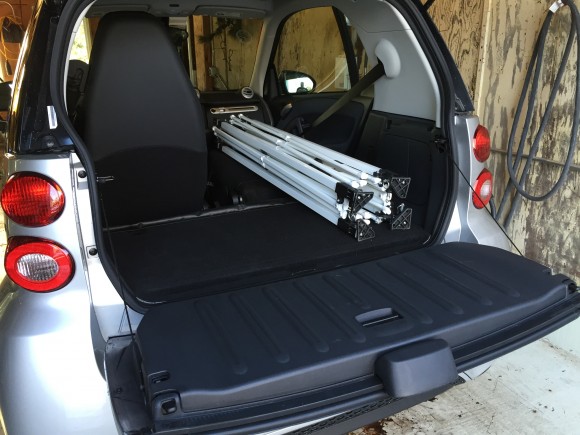 Oh, and 3a, you can sit on that open hatch, if you'd like to.
4. It has adjustable regenerative braking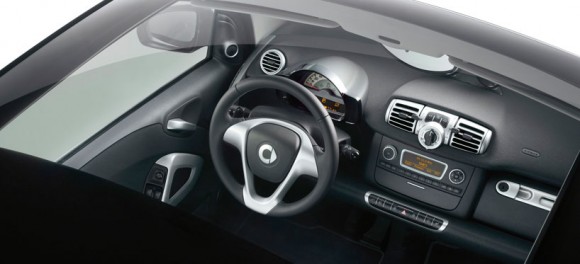 It can be ordered with a three-spoke steering wheel and "Recuperation Paddles" so you can adjust the regenerative breaking from zero (coasting) to stage 2, 60% regenerative power. Although it would be nice to have the full regen as standard, the cars without the paddles default to stage 1, 30% regenerative power. I am missing the strong regen I have become accustomed to. It does have some regen on the accelerator and also some on the brake, but I have been so spoilt with the MINI E and the Active and now the i3. We tried to find a car with this option but alas, there were none.
5. It has interchangeable body panels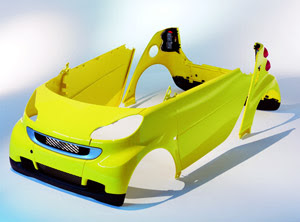 The skin of the car is made of polycarbonate panels that can be removed within minutes and exchanged for different coloured panels at your smart centre or even at home. Ooh does that mean I can have, flowers, hearts – maybe?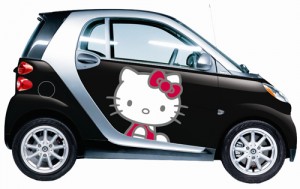 Last but not least:
6. It's tougher than you might think
"Small cars aren't safe, that's why I drive an SUV." "I wouldn't let my children drive one." "The Smart wouldn't work for me as I need to drive on the highway." – Just a few of the ill-informed comments that I've heard. Mercedes, who make the Smart, wouldn't be silly enough to make a car that was dangerous would they? Would they go on to sell it in 46 countries? Would it continue to sell in good numbers for over 17 years? I don't think so.
Since its birth in 1998, the Smart introduced the very visible Tridion Safety Cell that surrounds the occupants. It's very much like the roll cage you might find in a racing car. Most of the bodywork simply hangs off the safety cell. It's this egg like cell that protects the occupants and why it gets as high as a five-star rating for drivers side impact by the U.S. National Highway Traffic Safety Administration – that's higher than most cars and why it was featured in the New York Museum of Modern Art in 2002.
The 'Pole Test' is a nasty simulation of a very typical real-word accident. It records what happens when you lose control and slide into a narrow object such as a tree or a pole. Approximately one quarter of all serious-to-fatal injuries in Europe happen in side impact collisions and many of these injuries occur when one car runs into the side of another or into a fixed narrow object such as a tree or pole.
Here's how the Smart Electric Drive handles the Pole Test, I've fast-forwarded to the slow-motion part of the video to see how the pole impacts the driver, as we pick up the action, we're sliding sideways into a pole…
It's not nice. The first thought might be "get a bigger, safer car" right? Well, in the test above, I'd say the driver would be pretty shaken, but let's see what happens in a "nice big, safe" 2014 Chevy Silverado 1500 / GMC Sierra 1500 (Crew Cab)…
Like the Smart, the drivers head hits the airbag but in the SUV, the pole just keeps coming in until it hits the driver directly.
How about a "giant, super-safe" Ford Expedition?
…The pole came right into the passenger compartment.
2015 Honda CR-V does a little better before the roof folds up and it drops the insides on the driver…
2015 BMW X3 is a bit better but still, the pole penetrates the passenger compartment more than it does in the Smart…
Same with the 2015 BMW X5…
Even though the Smart suffers in the crash test, it does fair better than the other cars. What we see is that, contrary to popular belief, it holds up as well or better than any "big, safe" SUV. Add to that the biggest difference; the Smart is lighter, more nimble and stops faster so, you're less likely to be involved in an accident in the first place, and that's how I like to end a story.
Thanks to CrashNet1.com for compiling those. You can see more pole tests at their YouTube Channel. Plus the same story with frontal impacts… that Tridion Safety Cell is tough.