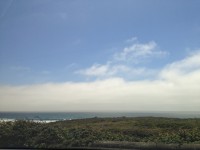 July 2013
Two days of Model S – now, how did we manage that?
Well, it all began with us going to California for TESLIVE 2013. Unfortunately, we had to fly there as not one of our EVs would make it all the way, and even in the Roadster it would certainly have taken rather a long while to get there. It is a shame as we'd certainly prefer to drive rather than fly, much more Eco Friendly. Of course, if we had Model S then it would definitely be much more of a possibility.
Flying to California meant we had to hire a car. We ended up with a Toyota Yaris, cheap and fairly economical. But, yuk, it still pollutes. I was not impressed that we were stuck with it, I really missed driving electric. However, there was a light at the end of the tunnel. If you know people at Tesla as MPT does, and you ask ever so politely if they might like to lend you a car… Well, we were most fortunate to have Model S for two days. This was brilliant, although it did cause a small problem. *see below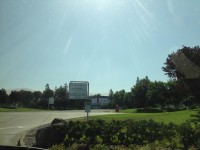 On the Friday morning Michael (and I) was up super early ready to go and pick up Model S. We couldn't actually pick it up until 10am, it was currently 4:30am (we were still on EST). We survived the anticipatory wait by having breakfast at 7am, but there was still 3 hours to go! At 9:30 we took a leisurely drive over to the Tesla factory in Fremont. Michael got super excited when he spotted the Tesla name on a building up ahead of us. I tried frantically to take a photo as there was a huge Walmart lorry fast approaching on the inside slip road, I just managed the photo before the lorry obliterated the view. A little further along the road we saw the Tesla sign and turned into the factory.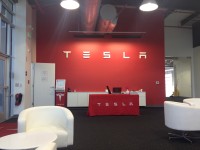 We found the correct building and headed on in with not even a backward glance at the Yaris – sorry, umm not! The staff at Tesla were super friendly and we chatted while waiting for our host, Robert Aguirre, who was bringing the car over. I also purchased a rather nice Tesla t-shirt for my 3 year old nephew. When he wears it to pre-school he will be able to tell all his friends about these great electric cars, nothing like an early introduction in to the EV world. Michael was rather (read super duper) excited when Robert offered us a personal tour of the factory. Personally I'm not so excited, it's just a car factory right? They just make cars, can it really be that exciting? According to Michael, yes it is that exciting and also very interesting. The tour was just okay for me until I saw the robots working in unison to stamp out the side panels. Very cool, they just looked amazing like they were on the dance floor moving in time with their partner. I could have stayed there, even though I was up on some suspended walkway, watching them a while but it was time to move on. The tour progressed through the factory and I saw that they'd already made my silver car but for some reason we didn't stop to look at it and just walked on by. Maybe I was going to get to look later…
The tour came to an end meaning it was now time to drive… To drive a rather nice black P85 S with 21″ wheels also in black… Amazing, I couldn't wait! Yes, yes, enough with the chit chat… Let's go.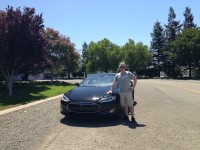 We opened the doors and got in and instantly you know you are surrounded by quality, the car is everything you could wish for and more, just what you know you would like. We've been in an S before but that was a short test drive, this time we got to drive it for two days, it was a real test drive. Just pulling out of the car park we were straight back into the conversation that always starts with * 'We should really get one of these'. We always try to find reasons not to get one, but we are just on a losing streak, we know we would like one. Ugh… Where's the piggy bank??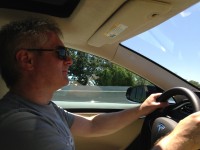 We had already planned our day out to make the most of driving the S and we were soon on the road heading to Santa Cruz, which for those of you that don't know is a lovely drive up and down through the mountains to the coast. Michael had a blast, no surprise there! I did, however, have to reel him in a couple of times as I was flung backwards into my seat! Will he ever learn that when I'm in the car, it's nice and gentle driving? Or I'll be sick!!! We arrived at the beach and decided to park for a few minutes, we were here so we should really take a walk along the boardwalk and see the sea. Well, as it turns out the sea is just the sea, it's rather chilly looking, and the boardwalk, just too cheesy for us. Quick, back to the S, definitely much more fun.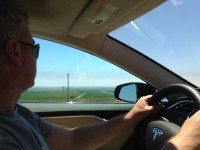 Back in the car we took the coast road back, there are some amazing views along the road. The S handles the roads without any issues, it's glued to the road at all times, it's just all as life should be. Everything about the car is just so intuitive. We play with the 17inch touch screen (not while driving obviously! We had stopped to admire the view), it is just perfect and makes life so easy, from entering destinations, to controlling the AC, to adding a phone, to changing the Settings – sorry Robert, it was indeed us that changed it to Celsius!! Ah, it's all so wonderful, I wonder which way NJ is from here – tap on Navigation, enter the address, press go…
The car has so much space, certainly more than we need, but I'm pretty sure we can live with that. No, change that, I'm definitely sure we can live with it. The missing Centre Console is not what I would consider missing. I could get into the car and I immediately had somewhere to put my handbag where it wouldn't fall over as it usually does in the passenger footwell, as well as annoying the passenger. Another plus – while Michael was busy having his Friday afternoon meeting and I was waiting in the lovely S – I could stretch my leg across from the passenger seat to the brake pedal to activate the car so I could open the windows. Normally I'd have to become a yogi or gymnast to perform this feat in other cars. So all in all quite a useful space I would say.
On the Saturday morning we were heading out to TESLIVE and finally I got to drive – this was a huge mistake (in a good way). I approached the car and it unlocked itself, the door handles silently emerged from the doors. I opened the door appreciating the craftsmanship (robot-ship – if that is a word) and all the work that I had seen going into the construction of this EV. I gracefully sat down, you can do so gracefully as there is so much space, no need for gathering up your dress/skirt so it doesn't get left on the door sill and ruined when you close the door. Not that I ever do that as I usually just have it all bunched up instead, then I'm always a bit creased when I arrive at my destination! But not today. I put on my seatbelt and put my foot on the brake. The car started up, well the only way to know this is because the dashboard illuminates, this is all done so quietly but with a knowing purpose. I love the silence. I pulled the stalk down to D and slowly let go off the brake, nothing. We were parked on the flat and creep was turned off so the car sat waiting for me to touch the accelerator. As I did so the car moved slowly forward and I pulled out of the hotel garage, already knowing that this is the car for me. As I accelerated slowly, it is me driving after all, onto the road the car responded to my commands so smoothly and quietly, it's effortless driving and I love it.  It accelerates rather well, as you all know by now, and I had no problem merging onto I82 and keeping up with the traffic. These California roads do take a bit of getting use to though – so many lanes! The navigation guided me without error to our destination although I was tempted to accidentally, on purpose, miss our exit and just keep on driving, as at that moment I didn't want to go to TESLIVE, I'd rather have just driven and driven to wherever the day took me. I really, really want one – hmm that sounds a bit spoilt, maybe I should say, I would really, really like one, please?
Our last drive in the S was to the Tesla Factory for the after party for TESLIVE. We enjoyed our ride over there and took our time knowing that we didn't want to give the car up. It was a glum feeling to park up the S, gather our belongings and put them in the Yaris. Oh dear how can you get into a Yaris after Model S?  With rather a lot of difficulty, actually.
Hmm… I wonder – Would anyone really notice if we took it for a quick test drive to New Jersey?